HHB Communications has been appointed UK & Ireland distributor of Southern-Germany based software developer Non-Lethal Applications (NLA).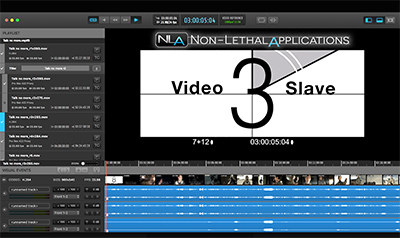 NLA began to create affordable, professional and dependable video playback solutions in 2012. Now in its third incarnation, NLA's Video Slave is becoming the go-to software solution for post and broadcast facilities and engineers looking for solid synchronised video playback when working with DAW systems including Pro Tools, Nuendo, Cubase, Logic and Studio One.
Since its first release, numerous features have been added to aid users in different areas. The current version offers one-of-a-kind dialogue recording features with tight integration with Pro Tools.
Video Slave 3 has been used in numerous high-budget productions, including Guardians of the Galaxy, House of Cards and House. Companies worldwide have relied on Video Slave including Warner Bros, Vice Media, Food Network and RTL.
'Given HHB's reputation within the industry and their excellent reputation in the postproduction community, we are sure we have the best distribution partner in the market,' says Non-Lethal Applications owner and Lead Developer Flo Loferer. 'We're looking forward to a great collaboration.'
More: www.hhb.co.uk