In a move to raise its profile with both local and international artists, Nairobi's Supersonic Africa studio has installed an Audient ASP8024 large-format mixing console. Part of a project to expand the facility and build its client portfolio, the studio is serving Coke Studio Africa, a weekly music TV programme filmed at Supersonic earlier this year.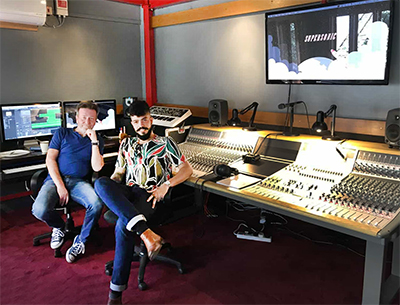 A 'non-competitive music collaboration show', Coke Studio Africa aims to celebrate the diversity of African music and talent, and as well as extending the reach of the Coca-Cola brand to the youth across Africa. It has also helped raise the profile of Supersonic studio dramatically.
'Musicians from all over the world come together and work on original compositions and mashups,' says Supersonic producer, Muna Chuba, explaining that this was the second year running the studio has hosted the show. 'This gives us a lot of coverage as a studio – it's actually how some of the international musicians get to know about us.'
Artists who have recorded and mixed at the studio include multi award-winning, local pop band Sauti Sol and international artist Wizkid. According to music producer and Supersonic studio owner Matty Peevers, the new desk is the next step towards 'expanding our horizons into the music sector. The routing system helps to make this an incredibly flexible desk,' he says, particularly admiring its 'great sounding EQ'.
Resident producer and the engineer behind Coke Studio Africa Aeason 4 is Sean Peevers, who described the Audient ASP8024 as 'an extremely versatile desk'.
Comprising two rooms equipped with digital and analogue gear, the business focus was initially television and radio advertisements. 'Clients ask us to produce the entire ad – from voiceover recording, creating the music to sound design and mixing,' saysChuba, citing Coca Cola, KCB Bank, Safaricom, Airtel, Fanta, Nestle and Weetabix as just some of the studio's list of clients.
'Our experience with the desk? So far, so amazing – we are getting to know each other quite well,' she concludes.