Established in 2010, the moZ'aïques world music festival is now a major event on the regional music scene. Taking over the Les Jardins Suspendus site in Le Havre, France, each summer it offers a diverse and eclectic programme over five days, including jazz, soul, reggae, Latin and African music, with the organisers mixing headline acts with upcoming talent and local artists.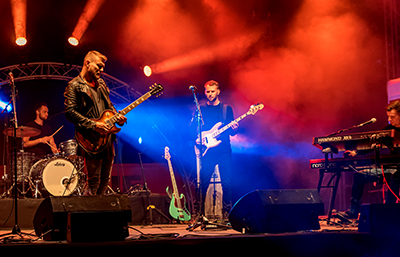 For its eighth annual edition, 40 concerts were planned, with 100 musicians performing across two stages To host the event, the city of Le Havre works with regional technical provider Visuel for the stage set-up and audio requirements. The partnership with Visuel, going strong for six years, serves the 30,000 spectators attending the festival.
This year, Visuel moved to an APG PA set-up to hande a complex acoustic challenge – two stages facing each other 200m apart in former military fort, with an audience of up to 4,000 people.
'When you are lucky enough to host incredibly talented musicians and singers, it is absolutely critical to offer a sound quality that is capable of giving back the energy and the warmth drawn by the artists,' explains moZ'aïques' Festival Director, Jérôme Le Bay. 'Kudos to Visuel and APG for being able to offer a system that is flexible enough to do justice to every nuance of musical diversity, from the most intimate performance at one end of the scale to the most rousing from a 40-drum band.'
In order to cope with such a complex sonic challenge, Visuel opted for APG's Uniline Compact (UC): 'From an operational perspective, the Uniline Compact is also easy to handle and install, which saved a lot of time on stage during the installation', Le Bay says. 'I have to say that the Uniline Compact's reach in front fill is greater than the system we previously used for this festival.'
The APG system configuration on both stages was identical, comprising ten Uniline Compact (eight UC206N and two UC206W) elements per side, two stacks of three UL118B and one stack of four UC115B subwoofers. These were accompanied by DX15 stage monitors and four DX8 ultra-compact speakers for the tip of stage.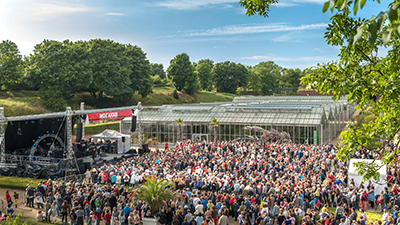 Because of the unusual layout of the site and the issues this creates, the system configuration was critical. Sound coverage is lengthwise at moZ'aïques, with large greenhouses to one side of the stage and the public. The UC206N's narrow (70°) horizontal coverage enabled the sound to be directed towards the public with minimal interference from greenhouses.
'The festival was looking for a stellar sound, capable of delivering both excellent acoustic performance and exceptional audio quality', says Visuel Technical Director, Régis Lethuilier. 'The Uniline Compact perfectly met these expectations; we decided to use the APG system this year as we are always keen to offer the latest and best equipment available – and the APG loudspeakers are made in France, so it was a no brainer.'
Visuel teamed up with acoustic engineering consultant Guillaume Lecreux from Iso-Sonique to specify the sonic requirements and to operate it on site, who was impressed by the level of flexibility offered by the Uniline Compact: 'This APG system is able to reproduce any musical style for a festival of this size. The acoustic pressure levels that it is able to generate are quite simply mind-blowing compared to its size,' he says.