Mix3 Sound Inc has added 24 EAW Anya array modules to it rental inventory, bringing their total up to 48 Anya and 24 Anna boxes.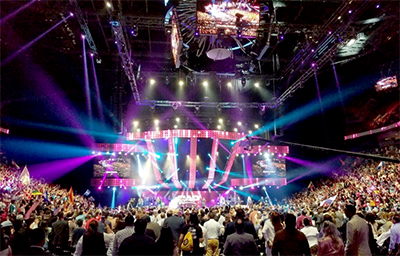 The Miami-based company immediately put the new boxes to use at CAP 2017 – La Conferencia Apostólica y Profética, an Apostolic and Prophetic Conference held at the American Airlines Arena that draws more than 20,000 every year – where it had provided an EAW Adaptive System last year.
'John Ferlito and the folks at Mix3 have been fans of Adaptive since they purchased their first Anya system in 2015,' says James Newhouse, North American Sales Director for EAW. 'Since then they have found that the flexibility and adaptive nature of the systems keeps it in high demand. It was an easy decision to increase their inventory to meet their clients needs.'
'We have used Anya for CAP since 2015,' adds Mix3 Owner John Ferito. 'The system works incredibly well in the arena, providing exceptional coverage. The additional Anya modules will easily accommodate the growth of the conference now and into the future.'
Mix3 Sound Inc is a full-service production company that provides service and equipment for a wide range of clients and events in south Florida. The company currently has Anya and Anna line arrays as well as EAW KF730, KF740 and KF650 line arrays, SB subwoofers, SM stage monitors and the NT family of products.
'We have consistently led the market with technology,' Ferlito claims. 'We have found Anya to be extremely versatile with amazing audio quality. Adding to our existing inventory will allow us to continue to grow and provide our customers with the systems they require.'