L-Acoustics and Puy du Fou have announced a 'privileged partnership agreement' tightening the relationship between the French sound reinforcement systems manufacturer and theme park.
Established in 2014, Puy du Fou – a unique concept created by Philippe de Villiers 40 years ago – has become France's second-most-visited theme park with 2.2m visitors per year. Nestled in the countryside, the park offers visitors the chance to 'travel through time'. It is also a unique economic model, being fully self-financed –combining a team of volunteers (Cinéscénie) with reinvestment of profits.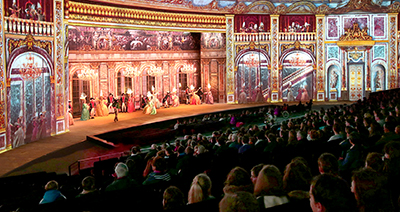 The first L-Acoustics system at the Puy du Fou was installed in 2000 for the Gallo-roman Stadium. Today, the manufacturer's sound systems are in use throughout the park, most notably in Le Dernier Panache, which featured the first permanent installation of the new L-Isa hyperrealistic immersive sound technology by L-Acoustics.
The partnership between L-Acoustics and the Puy du Fou represents the culmination of more than ten years' collaboration between the two organisations, and reflects their shared values: a commitment to technology, creativity, innovation and dynamism. It will enable the two enterprises to share creative ideas from the very early stages of future projects.
'Being a member of Puy du Fou Circle of Partners gives us a unique terrain to expand our creativity,' says L-Acoustics President, Christian Heil. 'It will allow us exclusive development opportunities to continue to apply our most cutting-edge technologies to the most elaborate stage shows in the world.'
'Puy du Fou and L-Acoustics are both pioneers in our respective industries,' adds Puy du Fou President, Nicolas de Villiers. 'Formalising our partnership will multiply our opportunities for creativity and, as with L-Isa and Le Dernier Panache, enable us to continue offering never before seen or imagined attractions to our visitors.'
More: www.l-acoustics.com