'From the first moment we heard Vero, we wanted it – it will blow a lot of people's minds, especially compared to what they are used to hearing,' says Loto Audio's Ramon Salazar, of the Funktion-One loudspeaker system.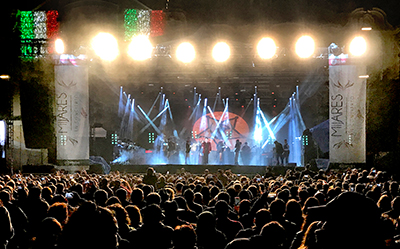 'It's always a good time to invest in any Funktion-One product, but adding Vero to our rental stock means we can reach big festivals and hit the rock/touring market,' says the Mexican rental house founder. 'A lot of Mexican production companies are already very familiar with the traditional Funktion-One loudspeakers. Now that we have Vero, I'm sure they'll be keen to use it on their bigger events.
As a complete, large-format touring sound system – comprising loudspeakers, amplification, rigging and software – Vero combines sonic performance with the ease of use of a line-array system. By returning to first principles, Tony Andrews and John Newsham have attempted to re-think the vertical array, creating a system that maximises both audience experience and user convenience.
The Lambda flying system allows adjustment under load and facilitates quick and easy deployment, while the system's projection design and prediction software enables Vero users to optimise array designs for smooth audience coverage and generate detailed venue-specific system information.
For Salazar, it is the system's sonic clarity that puts Vero ahead of the pack: 'It is not a line array sound, that is for sure,' he says. 'With Vero you have more consistency and intelligibility. That greatly improves the stereo image. Besides the great mids and highs that we all know, it also has a dedicated box – the V315 – to do the low mids, helping to create a complete sound that no other company, speaker or line array can achieve.
'You simply can't ask the 12-inch in a typical line array to do mid-bass/low-mid effectively, they just can't manage it,' he continues. 'But with Vero you hear everything. In fact, for some live sound engineers it feels strange to hear something that has always existed, but that they've never had before.'
The Vero range features six highly-efficient, low distortion horn-loaded loudspeakers – the V60 mid-high, V90 mid-high and V315 mid-bass, with a choice of V221, V124 or V132 bass. The V60, V90 and V315 have identical dimensions, enabling them to be flown in the same vertical array, while the ground stacked V221, V124 and V132 bass enclosures offer a choice of size and low-frequency extension.
A single Vero enclosure can perform as a standalone unit because it does not rely on near field coupling from adjacent boxes to achieve the desired frequency response. This allows new thinking with enclosure configuration and deployment. The Vero system uses a new process called Geometric Energy Summation (GES), which facilitates mutual reinforcement in the far field, while giving outstanding directivity and level control.
Mexican music fans got their first taste of the new Vero system during a live performance by national favourites, Mijares, to mark the country's Independence Day in September, with further festivals lined up for the end of 2017.