Having worked its way through 15 sound systems over years spent seeking a solution to its intelligibility problems, Abu Dhabi's St Paul's Church has found salvation in a Renkus-Heinz Iconyx digitally steerable line array system installed by Crownstar Technology.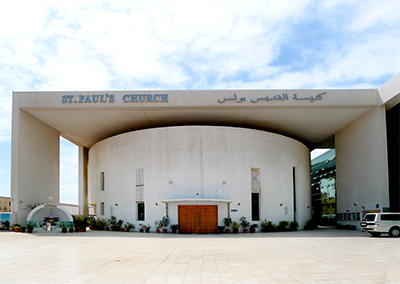 Situated in the Musaffah Industrial Area of Abu Dhabi, the building's interior is a large open, circular space with marble floors, curved walls and wooden pews – all the necessary ingredients for reverberance that accentuates choir and organ, at the expense of spoken word intelligibility. 'It was one of the parishioners that got in touch with us,' explains Business & Operations Manager, Laurane Zeta Johnson. 'They could hear that there was a problem at the church, and they asked if we could give some advice and possibly rectify the issue.'
'I recalled that the State Mosque of Qatar in Al Khuwair – which has a capacity of 30,000 – had experienced similar issues, and had installed a Renkus-Heinz Iconyx system,' adds Crownstar Technology MD, Sabu John. 'The feedback there had been excellent, so I personally visited the mosque to hear it for myself. Afterwards, I contacted Renkus-Heinz to find out more, as we had never specified their systems before.'
The church holds both traditional English and Indian services, featuring drums and percussion, creating challenges in the highly reflective sanctuary: 'It's not a small building, and they want the music loud, but without the echo,' John says. 'They also didn't want to disturb the interior design aesthetics with any acoustic treatment.'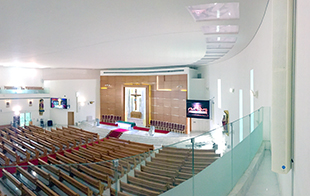 Crownstar designed a simple solution with a main PA comprising two Iconyx IC24-16-RN loudspeakers, mounted left and right of the proscenium. A pair of CF81-2R two-way active loudspeakers are located in front of each of the two pulpits, serving as front fill. The choir, situated at left in front, is served by a pair of CF121M-2 two-way monitors, with an additional unit for the priests.
'Previously the choir only had one speaker,' John says. 'With the CF121M-2 modules, we keep the volume low so it doesn't hit the congregation behind. Now the choir can hear their monitor feed much more clearly. The monitor on stage provided more than enough fold back for the priests.' A pair of Renkus-Heinz IC16-RN columns cover the upper balcony, with all speakers painted white to match the décor.
After many years' in the acoustic wilderness, Iconyx' beam-steering technology has prompted positive feedback from priests and congregants, and has solved the church's intelligibility issues.
More: www.renkus-heinz.com