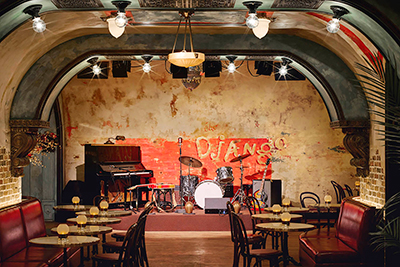 Beneath the Roxy Hotel in Manhattan's Tribeca, The Django jazz club is an homage to legendary guitarist Django Reinhardt. Entering it is like stepping into an out-of-the-way club in mid-century Paris – except for its sound system.
To complement its visual aesthetic, The Roxy invested in Meyer sound reinforcement system, to which A/V integration firm Essential Communications added an Ashly Audio digiMix24 digital mixing console: 'The Roxy is our client, and they were in the
'They wanted all of the functionality and processing power of a large console, but they didn't have a lot of physical room to put it,' says Essential Communications President, David Schwartz. 'The digiMix24 packs a ton of features into a small footprint, and all of the functionality appears seamlessly. It's uniquely powerful, but also uniquely easy to use. They will use its full power for jazz shows, but they'll also use its EZ Mode for meetings and other events.'
Known for its amplifiers, Ashly Audio started out in the early 1970s building live mixing consoles – so the digiMix24 represents a return to the company's roots but is a new development in its catalogue. The console gives The Django tactile control, a touchscreen with intuitive menu architecture, 24 inputs, 14 mix buses, 32-bit conversion and processing, dynamics, equalization, digital effects and scene recall.
In addition, the digiMix24 comes with a free iPad remote control app.
'The Django's FOH engineer wanted to have the ability to walk around the club and mix remotely,' Schwartz says. 'He wants to hear the mix from different perspectives; like looking at a work of art from different angles and under different lighting. You get a different vibe. He wants to make sure the mix is working from every vantage point.'
Schwartz reports that the app connected with the digiMix24 reconnects reliably without detectable latency between changes made on the iPad and the mixer.
'We almost never have problems with Ashly gear, but in the event that we do, they'll have our backs,' Schwartz says. 'For example, we had an Ashly processor in place for a few years at another New York hotel and it recently started acting up. Ashly simply shipped us a replacement. I know I'll get the same kind of support with The Django's digiMix24.'