Asserting its prominence in Italy's live music scene, the Visarno Arena hosted the Firenze Rocks and Firenze Summer festivals this year. The latter saw Jamiroquai perform for 13,000 fans using an Outline GTO PA system supplied by Tuscan rental firm Emporio On Stage.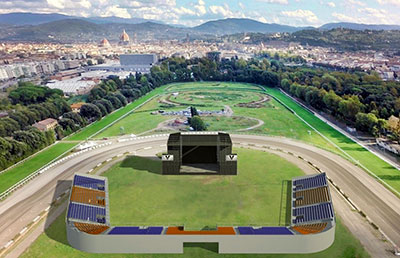 Outline product specialist Vincent 'Vinnie' Perreux delivers hands-on technical support to Outline partners internationally and so was on-site throughout, putting his in-depth experience at the disposal of the sound crew. 'The PA was designed by Outline and Tuscan rental firm Emporio On Stage, based on the Outline's Open Array 3D software predictions.'
'I'd worked with Jamiroquai FOH engineer Rick Pope in the past, so knew what he'd want for the band as far as the PA was concerned, and our design met with all-round satisfaction right from the paperwork stage,' says Emporio On Stage owner, Angelo Catoni. 'The enclosures respond really well as far as directivity is concerned, ensuring coverage exactly where they are pointed, so we were able to limit the majority of the sound to the audience area.'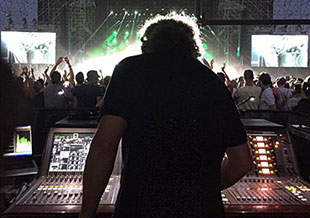 A year after its successful deployment at a similarly memorable Florence concert from Sting, the GTO system set-up comprised a 12-deep GTO hang per side as the main LR system, each with two underslung GTO-DF down-fill enclosures plus six LIPF-082 front fill enclosures covered the first rows of the crowd, plus two 12-element Mantas 28 hangs covering the stand seating to the sides.
Jamiroquai's music also requires extended low-frequency delivery, for which Emporio On Stage set 20 Outline DBS 18-2 subs plus eight Lab 21 infra-subs.
Wearing his LED-powered headgear from Automaton, the band's eighth studio album, frontman Jay Kay treated fans to some of the most popular songs from the band's career. The show was musically and vocally perfect, and the band were rewarded with a standing ovation.
FOH Rick Pope has worked with the band for more than 20 years but was on his first outing with a GTO rig. In spite of local SPL limits within which Emporio On Stage were obliged to work, Rick was satisfied: 'I was really pleased with it – it perfectly met the requests I made,' he reports.
More: www.outline.it