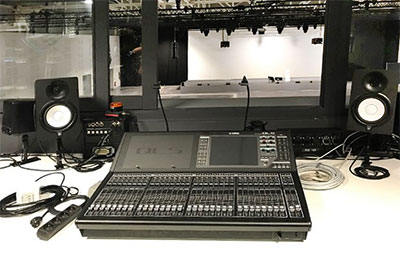 An in-house faculty of Airbus, the AirBusiness Academy provideas training design, delivery of custom learning solutions and consultancy services. A vital part of the infrastructure of its L'Event Centre in Toulouse, France, is an extensive Yamaha Commercial Installation Solutions (CIS) installation.
Located in the Airbus Leadership University campus, L'Event Centre is its main conference and training facility, with space for seminars, press conferences, plenary sessions and meetings. Here, A/V systems integrator, dealer and rental house Concept Group was asked to provide the VXS8, choosing the Yamaha CIS system for its main space – chosen for its versatility and ease of use.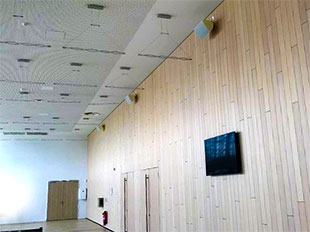 The Dante-based system features an MTX5-D matrix processor, with XMV8280-D power amplifiers driving VXS8 surface mounted, full-range loudspeakers in the large foyer/circulation area. A QL5 digital mixing console and HS7 studio monitors are located in the control room of the lecture theatre, connected to the Dante network, while control for the whole system is achieved via DCP4S and DCP4V4S surface-mount panels. Yamaha MSP5 and MS101II monitors are also used in the control room.
'Concept Group chose the CIS solution because it offers exceptional flexibility and ease of use,' says Frederic Borde of Yamaha Music France. 'The MTX5-D is very simple to program and the DCP series control panels, located in the Reception area, mean the whole system can instantly be set up for different uses, pre-recorded announcements (stored on an SD card) can be made and pre-programmed background music (BGM) playlists can be selected, all at the touch of a button or turn of a dial.
'The Dante network allows presentations in the lecture theatre to be broadcast to the circulation area, or BGM and announcements to be routed to the lecture theatre. Most importantly, they were impressed with the sound quality of the VXS8 loudspeakers, which complement Airbus Industrie's commitment to quality throughout its organisation.'
More: www.yamahaproaudio.com