German public broadcaster Mitteldeutscher Rundfunk (MDR) has installed dozens of new mixing/editing workstations using Lawo Rǝlay Virtual Radio Mixer software in its Erfurt facility in Thuringia. Part of an extensive modernisation, the installation was carried out by technical service provider, MCS GmbH Thüringen.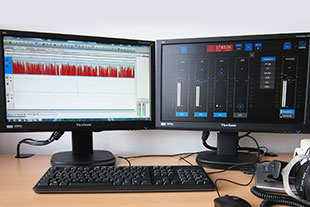 The aim of the modernisation is to provide more user-friendly tools for radio editors, talent and producers, enabling them to streamline their workflows by reducing system complexity and adding mixing, recording, editing and routing flexibility. To this end, more than 30 workstations throughout the building now runRǝlay Virtual Radio Mixer workstations. Journalists can easily accomplish tasks such as audio editing, conducting interviews, recording Internet livestreams, or creating content for TV or radio programmes using the touchscreen-enabled Rǝlay mixing software.
In addition to mixing and recording local audio sources, Rǝlay users also have direct access to all audio signals within MDR's Ravenna network, allowing distributed resources – such as telephone hybrids, codecs and other audio devices installed in on-air studios or rack rooms – to be used remotely by Rǝlay workstations, simplifying infrastructure and reducing installed costs.
The project also included deploying an AES67/Ravenna audio network to distribute audio in-house. At the network's heart is a Lawo Nova73 router with dual-redundant Ravenna cards, connected to a Cisco core switch for reliability.
Rǝlay is radio software that enables broadcasters to build 'virtual broadcast studios' using inexpensive and powerful desktop and laptop PCs. The Rǝlay line includes eight-fader VRX8 and four-fader Virtual VRX4 Radio Mixer software, VPB Virtual Patch Bay, and VSC Virtual Sound Card software. All are AES67 compliant for use with standard AoIP networks and multi-touch capable for easy, intuitive use on touchscreen PCs and laptops. Rǝlay can mix all types of native PC audio using included ASIO, WDM, WASAPI and MME drivers, as well as AES67/Ravenna streams.
More: www.r3lay.com