When an integral steel frame structure collapsed during the construction of City Gates Church in Ilford, Essex, Pastor Rev Stephen Derbyshire and his team were determined to reinstate the building. Having raised £9m, a new five-storey building stands on the same site.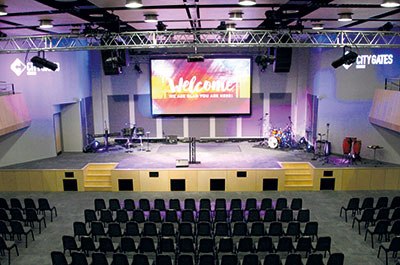 At the heart of the new church is a 1,000 capacity auditorium that will be used to host a wide variety of services and other activities. It is served by an audio system based around d&b audiotechnik loudspeakers devised and installed by SSE Audio Group company Wigwam Acoustics with input from d&b audiotechnik. Key to the installation was the use of ArrayProcessing, which also represents its first use an install environment in the UK or Ireland.
'It's an historic debut project for ArrayProcessing, which offers the opportunity to intensify the clarity and tonal balance of the J-Series, V-Series or Y-Series line array solutions,' says Oran Burns from the d&b audiotechnik GB Education and Application Support team. 'ArrayProcessing ensures that every member of the audience benefits from the same impressive quality of sound by enhancing the spectral consistency, with a defined level distribution, to achieve a consistent tonal balance for each listener.'
The fact that ArrayProcessing necessitates a doubling of the number of amplifier channels means that it won't be within the reach of all install customers, but Wigwam Sales Manager Phil Goldsworthy – who was instrumental in delivering this project – confirms that at City Gates it has helped to achieve 'very even coverage throughout the auditorium. In conjunction with the Y-Series products, it makes it very easy to cope with everything from a single preacher speaking at the front of the room to a full scale gig type event'.
Providing primary reinforcement are LR hangs of three Yi8 and three Yi12 loudspeakers, augmented by two flown Yi-Subs per side. Power comes from four 10D four-channel amplifiers, which are intended for permanent integration with applications requiring lower SPL levels. The amplifiers' DSP capabilities include comprehensive loudspeaker management, sample rate converters (SRCs), GPIOs and extensive signal monitoring.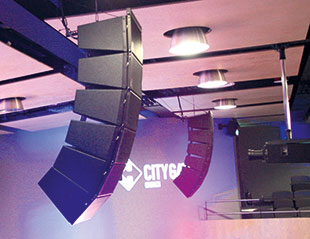 Helping to ensure seamless coverage in every area of the auditorium is an array of six Bi6-Subs. These high-performance subwoofers were designed for groundstacked applications, and each house a long-excursion 18-inch driver built into a bass reflex design. Amplification is supplied by a single four-channel 30D, which like the 10D amplifier occupies just 2RU.
Providing fill for the front, side and under-balcony areas of the auditorium is a total of ten 8S loudspeakers. These two-way boxes use coaxial driver combination with a passive crossover, delivering a symmetrical dispersion pattern in the horizontal and vertical plane. Frequency response from 70Hz-20kHz allows the 8S to be used as a full range system.
Consultant and sound system designer Jon Raper also contributed to a project that 'progressed smoothly and according to expectations,' confirms Goldsworthy. 'd&b is a staple of our installation projects, and in all honesty, it was at the top of our priority list from day one. As hoped it has delivered a versatile and powerful system for City Gates as it begins this exciting new chapter.'
A reverberation time of 1.2s means that the church offers a reasonably hospitable acoustic environment, Burns adds that the system has been the subject of a few post installation tweaks – as a result of which 'everyone is very satisfied with its performance. I have been there during services and it really does provide that live, inclusive feeling of being part of a large congregation.'
'The congregation were pretty blown away the minute the first note was played,' adds Joseph Perry, Worship Pastor at City Gates. 'The coverage to the entire auditorium space is something quite spectacular, and while most wouldn't know the ins and outs of why, it has certainly been appreciated by our church. As someone who heads up the music and production aspect of the church, it is a joy to play and sing in that environment each week. The d&b install, particularly with ArrayProcessing, makes for a unique experience in a church.'