Designed as an environment to 'develop students' talents to the highest possible level while fostering an appreciation and love of the arts', Lehigh Senior High School's Center of the Arts accepts students admitted by admission. Those who are successful gain access to a stunning performing arts space that has recently been equipped with a new sound system based around WorxAudio X1 line array loudspeakers and a StudioLive Series III mixing console from PreSonus Audio Electronics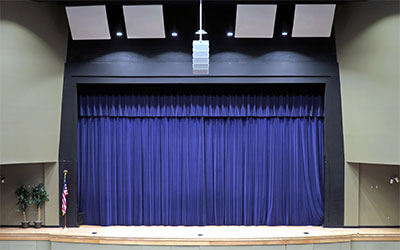 A/V installation company Creative Sound & Lighting Solutions was contracted to design and install the new sound reinforcement system. 'The stage is 60 feet wide and it's exactly 22 feet up to the proscenium,' explains company co-owner Rob Robinson. 'The theatre seats around 900 people and has roughly 25per cent of the floor area angled up toward the rear of the room with stadium style seating.
'After careful evaluation of the space and the types of activities that take place there, we elected to hang five PreSonus WorxAudio X1 compact line array modules as a single cluster – positioned in the centre of the room, just over the front edge of the stage. The beam clamp is attached right at 37 feet and, using an 8.5ft pipe to physically hang the loudspeaker cluster, the bottom loudspeaker is positioned at 22 feet above stage level.'
Located in the rear centre of the hall is the FOH mixing position. Here, Robinson and team replaced an aging analogue desk with a 40-input PreSonus StudioLive Series III 32 digital console/recorder with motorized faders. The new console provides a 1Gb Ethernet port that can connect to a wireless router or directly to a computer for remote control of virtually all features.
'To do an auditorium with a single hang and expect to provide even, consistent coverage from left to right, you need a loudspeaker with broad horizontal dispersion,' Robinson says. 'In this area, the X1 is exceptional. The X1 provides an industry-leading 160° horizontal dispersion pattern and, as a result, we achieved the even coverage we needed. Regardless of where one is seated, the audio quality is consistent, clear, and very natural sounding.'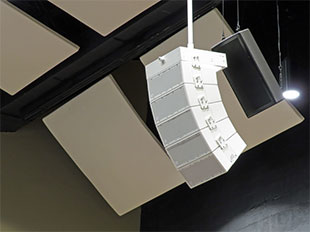 'I'm equally impressed with the X1 hardware,' he continues. 'The pin-outs are so versatile that you have the ability to aim the bottom box directly down at the front row and still have all the rest of the modules hitting their targets at just the right angle all the way up to the rear of the space.'
PreSonus Commercial Audio Division Director Tony Flammia,was on the jobsite providing Ease Focus acoustical drawings and the hardware pin-outs for the loudspeaker angles. 'In fact, he also tuned and optimised the system,' Robinson says. 'Tony arrived on-site with four reference mics, two computers, Smaart software and plenty of coffee. He helped us time align all the boxes with each other, and with the existing subwoofers that remain. We couldn't have had better support.'
While the new academic year is not yet underway, Robinson reports he's already received plenty of compliments: 'The staff were blown away by the clarity and coverage of the sound,' he says. 'We've been receiving a wide range of kudos. This is a very happy crowd that's looking forward to many years of great sound.'
More: www.presonus.com