Leipzig-based ils medientechnik has been providing equipment and technical services to live events of all sizes for 26 years. Having invested in an Alcons LR7 system at the beginning of 2016, the company has now expanded its portfolio with the larger LR18 line array system.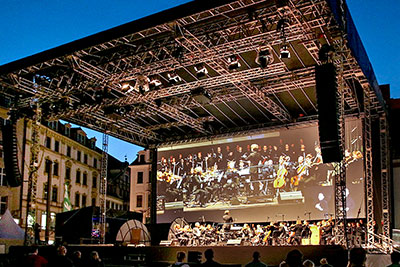 The company is headed by Managing Director Thomas Ils and brother Mario. 'We had been looking for a long time for a sound system that covers everything required by our customers,' Thomas explains. 'As a technical service provider, we have a very wide spectrum to look after – from very small to very large events. In addition, all systems should be compatible with each other and have the same excellent quality.'
After listening to different systems, the compact LR7 pro-ribbon line array system quickly won their approval: 'After five minutes it was clear that the search was over. The Alcons system has a brilliant as well as extremely direct sound and as such, completely matched our idea of perfect sound reproduction. We were immediately convinced that with this system, we would be able to realise at least two thirds of our projects in industrial, conference and trade-show applications in a perfect quality.
The initial investment made by ils medientechnik included 42 LR7 line-array loudspeakers, BF151 subwoofers and six VR8 – soon to be increased to 12 units – the set-up was complete. For the ils-Hausmesse (in-house show), the company borrowed the larger LR18 pro-ribbon system – and, once again, was won over by its performance.
'It was immediately clear to us that by investing in the LR18 pro-ribbon line-array system, as an addition to the LR7 pro-ribbon line-array, we could realize all upcoming sound reinforcement projects with Alcons components. Hi-fi sound at concert sound pressure levels and an unbelievable speech intelligibility – Alcons defines our future quality requirements in audio. Both systems play incredibly confident even in difficult rooms, and besides the superb sound reproduction of the pro-ribbon systems, the amplified loudspeaker controllers do the rest with their comfortable set-up and controlling possibilities.'
The Alcons LR18 enjoyed its premiere with ils medientechnik as part of a choral performance in the glass hall at the Leipziger Messe. 'With just a 12-unit array, we achieved an impressive speech intelligibility on an area of 30m by 50m. Everyone was very surprised', says Mario Ils.
As a highlight of the Kirchentag (Church Day), one of the largest events of the Reformation year (500th anniversary of the Lutheran thesis on Wittenberg), the open-air Zum Licht was performed at the Leipziger market square. Spanning sound collages, an emotional light show, opulent video projections – in addition a live performance with large orchestra, choirs, soloists, bands, actors and dancers.
The market square was dominated by the 21m by 16m mainstage with 36 Alcons LR18 compact mid-sized line-arrays, supported by 12 BC543 cardioid subwoofers. A total of 72 LR7 micro line-arrays, 16 VR8 compact monitors, six VR12 monitors, six QR36 line-sources, four BF302 subwoofers as well as four BF151 subwoofers were installed for the surround sound at eight 10m-high crosses and two additional stages. Eight Sentinel3, 16 Sentinel10 and eight ALC2 amplified loudspeaker controllers provided drive and control of the system.
'In our projects, we are often under extreme pressure,' Thomas Ils says. 'This is a system that does not need to be constantly measured and tweaked. And, thanks to the cooperation of the Pro-Ribbon Network partners, the 200-plus Alcons systems that were deployed could easily be arranged.'
'We are very pleased to have won another enthusiastic Alcons partner with ils medientechnik, which strengthens the Alcons rental network in Eastern Germany,' says Carsten Albrecht of Alcons Audio Deutschland.'