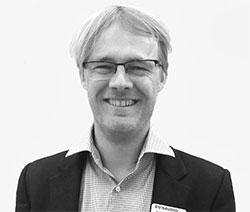 Danish speaker brand Dynaudio has named Rune Jacobsen as its VP of Sales.
Jacobsen has worked with the company's professional audio division for the past seven years as Export Manager at Dynaudio's former worldwide distributor TC Group International, and already has extensive knowledge of Dynaudio's products and history. 'Since I was a teenager, I've been avid about in high-quality audio, so combining sales of Dynaudio's professional line with my personal interest makes this a perfect match,' he says.
'I'm looking forward to growing the professional audio markets for existing and future product lines – particularly in even more multichannel immersive audio installations, post production and broadcast facilities, as well as in semi-professional and home-based recording studios around the world.'
'With his solid industry experience and wide understanding of international markets, Rune will add important value and competence to our efforts and the pro audio market,' says Chief Commercial Officer Claus P Rasmussen.
More: www.dynaudio.com