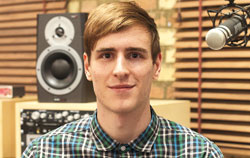 Professional audio technology supplier HHB Communications has recruited Sean Evans to its Professional Audio Sales Department.
Under the guidance of HHB's team of highly-trained professionals with real-world industry experience, Evans will add to its customer service and technical support 'to ensure that HHB maintains its position as the world's leading pro audio equipment supplier'. 'Sean's experience with audio technology has already made him a valuable asset to our Professional Audio Sales Team,' says HHB Director of Sales Martin O'Donnell. 'His enthusiasm is matched by a keen understanding of our customers' needs.'
After studying Music Technology and Popular Music at the University of Huddersfield, Evans gained experience working in several recording studios as a freelance audio engineer, in addition to mastering, vintage recording equipment and musical instrument repair experience. He has also worked as a session drummer.
'I have always had a great respect for HHB, as they are known throughout the industry as being an extremely knowledgeable company with experience in all areas of professional audio technology,' he says. 'It's great to have a job where the equipment that I am interested is being used in so many different ways, while also developing my knowledge in this exciting and evolving industry.'
Contact:
This email address is being protected from spambots. You need JavaScript enabled to view it.