Orbital Sound has added Richard Knott to its sales team, responsible for general pro audio sales andworking alongside the company's other sales staff, under Sales Director Tom Byrne.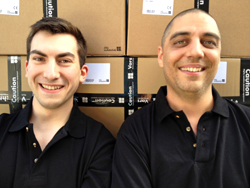 Joining Orbital from TMC in Bradford, Knott brings extensive pro-audio product knowledge, together with installation experience and live performance expertise.
'Richard is an important addition to our company, and it's great to have him on the team. He has a broad mix of skills – exactly what we look for in our staff – that combine highly relevant product knowledge with practical project work, ranging from broadcast to live sound,' Byrne says. 'We will be using his sales skills to the maximum, extending his enthusiasm for d&b audiotechnik loudspeakers across our other brands, while assisting him to integrate with the wider Orbital team. We are sure that he will make a valuable contribution to the company – helping to drive our sales forward and ensure we can offer the most dynamic service to our customers.'
'I have long been impressed by Orbital's track record, and first met the guys at a d&b international partner convention earlier this year,' Knott replies. 'I was keen to work for a good d&b partner company, and felt that Orbital represented the most attractive option – when they contacted me about the new position, I was obviously delighted to hear. I'm looking forward to learning as much as possible about Orbital's full product portfolio, and am keen to develop the installation side of the business.'
While holding the post of Sales Manager at TMC, Knott was also involved with installation projects that included supervising a d&b audiotechnik Q-Series line-array loudspeaker system in the Baths Hall venue, Scunthorpe, as well as audio-visual installations at Millennium Square, Leeds and for BBC Manchester at MediaCity. He holds a BA (Hons) in Music Technology, and is an accomplished musician.
More: www.orbitalsound.com