Lab.gruppen and Lake have appointed Martin Andersson to the position of Product Manager – Touring, working across the touring portfolio of both brands.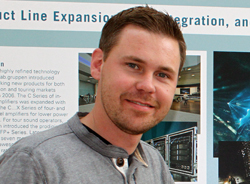 Andersson takes up the position after two years as part of the sales organisation TC Group International (TCGI), the organisation responsible for sales of the TC Group brands, where he was International Sales Manager for Touring Products. The new appointment will see him 'drive forward development of leading product lines such as the PLM Series from Lab.gruppen and LM Series from Lake'.
'I think the level of innovation across the brands is unrivalled,' he says. 'We already have the world's most powerful amplifier with one of the worlds most acknowledged processing onboard, and have capitalised on our touring offering in recent years with the introduction of the LM Series from Lake. We have no other intention than to stay on top of this market, and I look forward to take great ideas forward and to push our technology further and broader into the market place in order to help our end users to do their job better, easier and more efficiently.'
As well as being involved in the live sound arena, Andersson has a long history with Lab.gruppen. Prior to his position at TCGI, he worked directly for the company as Scandinavian Sales Manager. His father, Kenneth Andersson, co-founded the company in 1979, giving Martin first hand knowledge of the technology, growth and development path of the company as a whole.
'Martin's knowledge of the company, the market, and of the touring world in general, will be a serious asset as we push forward in a competitive marketplace,' says Jon Alkhagen, Managing Director at Lab.gruppen