Korg USA has appointed Nick Owen as Vice President Sales.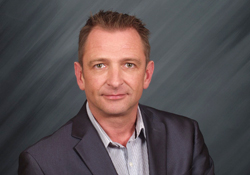 Exclusive US distributor of Korg, Vox, Blackstar, Lâg and HK Audio products, the company believes the move will bring with 'new sales strategies and insights to help ensure the long-term growth of Korg USA, its brands, and valued retail business partners'.
Owen comes to Korg USA with a wealth of experience in the music and sound reinforcement products industry, most notably in the pro audio market sector, as well as in consumer electronics. Over the past ten years, he has served in various capacities at the Harman Pro Group, ranging from Director of Sales, EMEA at Crown Audio Inc to VP US Sales for AKG and Soundcraft, and more recently head of worldwide sales for dbx, BSS, Lexicon and Digitech.
In his new position, Owen will report directly to CEO Joe Castronovo and be responsible for all aspects of Korg USA's sales and distribution channel strategies in North America. He will work closely with National Sales Manager, AJ Reitz, to oversee the company's sales teams and business development.
More: www.korg.com