Scrub, HHB Communications' Soho based postproduction office, has expanded its sales team with the addition of Devin Workman. He will be based at Scrub's Soho office.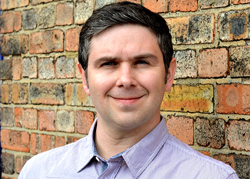 Workman's prior post as an Avid and Euphonix Product Specialist and his audio engineering background, added to his knowledge of the EuCon workflow and Euphonix control surfaces, is a good fit for the Scrub team and customers. A seasoned Pro Tools user, Workman was part of the team at Euphonix that launched the Artist Series control surfaces, while at Avid he developed the latest Pro Tools Application Set for Artist Control and the System 5-MC, which form part of the recent Pro Tools 10 release.
In addition to his work with Avid, Workman's freelance audio engineering and programming experience for music and post includes sound design, mixing, music concert DVD and artist EPK experience that has earned him credits on releases by David Gilmour, Ozzy Osbourne, and The Darkness.
Scrub provides the UK post community with offering consultation, sales, installation, training and after-sales support for Pro Tools and Avid DAW control surfaces. Its demo facilities house Soho's only System 5-MC demo console.
'Scrub has a great reputation in the London post community for having a knowledgeable technical support team and a friendly sales approach, which has made it a very successful and respected company,' Workman says. 'It's fantastic working from an office and demo facility with the area's only Euphonix System 5-MC demo console that is just a stone's throw away from the UK's biggest post facilities. I am very excited to join such a winning team.'
'Devin's wealth of knowledge of EuCon and EuCon workflows makes him the perfect addition to our team,' says Scrub Sales Manager, Tina Wallace. 'Scrub has long advocated the dedicated control surfaces for professional Pro Tools users and we only see a more popular future as the creative and ROI capabilities continue to expand.'
More: www.hhb.co.uk