Autograph Sales & Installations has announced the appointment of Giuseppe 'Peppe' Mallozzi to its technical sales team, taking up the newly-created position of Sales Support Engineer.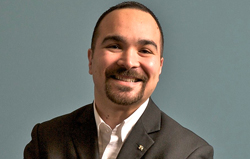 Italian-born Mallozzi brings almost 20 years of real-world knowledge to the company. His wide range of experience includes live sound engineering, system design and event project management. Fluent in four languages, his arrival at Autograph Sales & Installations could not be better timed…
'Everything we do here is quality-driven and client-focused – in order to deliver the level of service for which we are known it is important for us to offer clients immediate access to technical support,' says General Manager, Debbie Lovelock. 'The role is quite demanding in that it requires a combination of administrative, practical, technical and interpersonal skills. Peppe ticks all those boxes and we're very happy to welcome him aboard'.
'When I saw the opportunity to work for Autograph Sales & Installations I just jumped at it without a second thought,' says Mallozzi. 'I've admired the whole group for many years and being able to join the Autograph family is something that makes me very proud. What they need is exactly what I do, so hopefully I can contribute to the continued success of the business.'
Contact: This email address is being protected from spambots. You need JavaScript enabled to view it.
More: www.autograph.co.uk