DPA Microphones has added Susanne Seidel to its team as Executive VP of Sales & Marketing. The appointment accompanies the the departure of co-founder Morten Støve.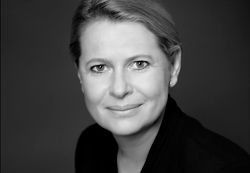 'A large part of the market for microphone solutions is cornered by better and smaller microphones to meet the continuously challenging conditions of sound reproduction,' she says. 'I have been watching DPA Microphones closely for many years and I'm confident that DPA has great market potential with its innovative technology and products.
'The market consists of some very technology-focused companies and some very volume-focused companies. At DPA, you clearly sense the passion and dedication for both the user of the products and for the core microphone technology.
'I look forward to participating in bringing the DPA brand to an even higher level and present it to an ever broader audience in the world of audio.'
The appointment is concurrent with the decision of DPA Microphones' board of directors and co-founder Morten Støve to end their working relationship, Støve having now left the company. Støve was part of the successful team that founded DPA and led it through two decades of new technologies and markets, building its reputation of delivering high-quality microphone solutions to the pro audio market.
'Two years ago DPA agreed on a new strategy,' says DPA CEO, Christian Poulsen. 'In our attempt to fulfill this ambitious strategy, I am very pleased that someone of Susanne's calibre has decided to join DPA. We share the same visions about the future of the audio industry and the same view of how to conduct a successful business. I am looking forward to a fruitful collaboration, and I am sure that both DPA and the pro audio industry will benefit from this.'
After completing a master's degree in Business Administration and Economics from the University of Hannover in 1992, Seidel spent the next seven years working in marketing and sales management in the lighting business. She joined Sennheiser in 2001 as Market Manager for the North and South Americas, rising through the company to become President of Global Marketing in 2007. In this role she also served on the executive team and as a member of various international sales supervisory boards and entities of the Sennheiser Group.
More: www.dpamicrophones.com