Sony Professional Solutions MEA has named Rob Sherman as MD, charged with promoting the company's profile and expanding its business within the MEA markets.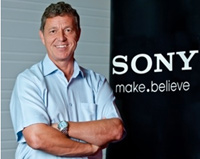 Born in Iraq and raised in Kuwait, Sherman will now be based at Sony's HQ in Dubai's International Media Production Zone. 'I bring a global outlook with local perspective to provide leadership to the Sony Professional Solutions MEA team,' he says. 'The size of the Middle East and Africa market is enormous, and the level of development and investment in pockets of this geography are incredibly exciting.'
Prior to joining Sony, Sherman was a sales executive at Racal Electronics. He began his career at Sony Professional in 1987, working in the broadcast and B2B industry segments in Dubai, UK, Portugal, and Central and Eastern Europe, before heading the B2B division for the Dubai branch from 1993 to 1997. He returned to the company in 2005 to head the MEA division from 2008 to 2011, taking charge of Sony Professional's CEMA region.
'I know the market well and hope to build on the achievements of the team based here,' he says. 'This region is incredibly important to Sony Professional and I hope to bring the knowledge, experience and expertise that the team and our customers are looking for. My ultimate goal is to ensure that our customers continue to receive reliable and responsive customer support,' he says. 'We are committed to assisting the broadcast industry to develop further by increasing service support in emerging African markets in particular, and to developing talent in the MEA regional team.'
'Rob's extensive experience in the Middle East and Africa region speaks volumes,' says Sony Professional Solutions MEA's General Marketing Manager, Shuji Okada. 'I am certain that his commitment and understanding of our customers will prove to be an asset to us.'
More: www.pro.sony.eu/mea