PreSonus has promoted Executive VP of Marketing & Product Services Jim Boitnott to Chief Operating Officer; VP of Sales Rick Naqvi to Senior VP of Global Sales; and Bret Costin from VP of R&D to Senior VP of R&D.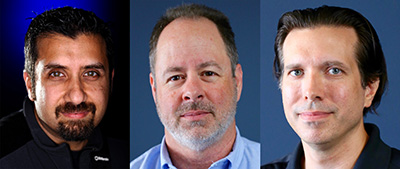 A graduate of Elon University, Boitnott enjoyed a career as a professional musician and taught in the music departments at several colleges and universities before moving over to the business side. Boitnott went on to become President and CEO of Notion Music, developer of Notion and Progression music software, before joining PreSonus as Executive VP of Product Services in September 2013 as part of PreSonus' acquisition of Notion Music's assets. At PreSonus he led the Online and Product Services team, adding the EVP of Marketing role to his responsibilities in 2015. As CEO, Boitnott is responsible for the overall internal operating activities of the organisation.
Naqvi joined PreSonus as the company's fourth employee in 1995, following a four-year stint as a sales associate at a top Baton Rouge musical instrument and recording equipment retailer. In more than 22 years with PreSonus, he has become the enthusiastic and passionate face and voice of the company, traveling the world to work with sales reps, distributors, dealers, and customers.
Costin has designed products and managed and directed product development at a variety of companies, including Avid, Compaq, M-Audio and PreSonus. The University of Florida engineering graduate served as PreSonus' President of R&D between late 2010 and mid 2012, helping to develop the AudioBox USB audio/Midi interface, StudioLive 16.0.2 digital console, and StudioLive AI-series consoles. Costin returned for a second stint as VP in January 2017 and continues to lead the company's R&D efforts.
'Jim Boitnott, Rick Naqvi, and Bret Costin have contributed so much to our success that the reasons for their promotions are obvious,' says PreSonus CEO, Stephen Fraser. 'All three are excellent leaders with exceptional communications skills, as well as accomplished executives with a deep understanding of our industry. Their well deserved promotions help position PreSonus to take our next steps forward as we continue to develop and deliver groundbreaking products that our customers need and want, as well as building strong relationships throughout the industry.'
More: www.presonus.com