Plasa (the Professional Lighting & Sound Association) has promoted Christopher Toulmin to the role of Commercial Director, a new position in which he will oversee all sales and marketing activities in the organisation and its commercial divisions which include the event portfolio (Plasa Show, Plasa Focus Leeds and Plasa Focus Glasgow) and Light & Sound International magazine.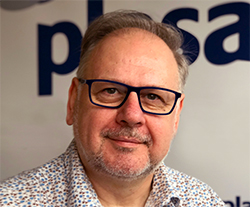 Toulmin's career in the industry spans more than 35 years, which has taken him from a lighting designer, industry innovator through his work at Modelbox, creative design consultant, to his most recent role as Director of Events at Plasa; a position he has held for the past five years. In his new role, Toulmin will support the organisation's strategy to grow both its events and media divisions, while exploring new products Plasa can deliver to further support the industry.
'Chris's impressive professional background and knowledge of the industry will be a great asset to Plasa as we move forward as an organisation,' says Plasa MD, Peter Heath. "With his creative vision, together with a talented sales and marketing team and market-leading products, we expect him to achieve great things in his new role."
'Chris is a well-respected figure in the industry, and I know many will join me in congratulating him in his new role,' Heath concludes.
More: www.plasa.org