Professional recording studio design and acoustic consultancy for the music, recording, broadcast and postproduction Veale Associates has named Richard Liggins its new Technical Manager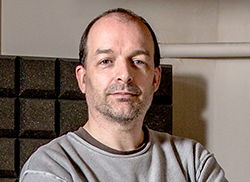 Liggins has an extensive technical background, industry knowledge and academic experience to enhance the company's studio design services and develop new areas for future delivery. 'VA is continuously looking at ways to grow and develop the business. Richard's experience and knowledge across a range of disciplines makes him the perfect choice to oversee the technical detail to projects and lead a drive into new areas. He is also a fantastic project manager and will be a great asset to the VA team,' says Veale Associates MD, Eddie Veale.
Liggins has more 30 years professional audio industry and academic experience. He began his career as a recording engineer in the 1980s and became Senior Lecturer in Music Technology at the London College of Music, University of West London in 2000 where he played a key role in developing the immensely successful BA Music Technology degree and went on to develop and lead the MA Advance Music Technology Masters degree.
Liggins later joined the University Capital Projects team during the recent regeneration of the Campus as Technical Projects Manager overseeing the design and build of recording studios, radio studios, theatres, control galleries and performing arts studios. During his tenure as LCM's Technical Production Manager, he was instrumental in developing one of the largest academic studio complexes in Europe and specified and delivered the largest RedNet installation in the world.
'Richard understands the company and the industry technological demands. His passion, knowledge, and leadership will put Veale Associates in a very strong position in today's dynamic and rapidly evolving industry whilst taking the business into its next phase of growth,' Veale says.
'Veale Associates is an exciting company with an amazing heritage and an enviable client list,' Liggins says. 'I look forward to working with the team to build on this and expand into new areas.'
More: www.va-studiodesign.com