Reinhold Friedrich and Michael Müller have joined the Stage Tec sales force as part of 'an effort to work more closely with theatre customers and enhance sales'. They will primarily act as contacts for theatres throughout Germany, Austria and Switzerland.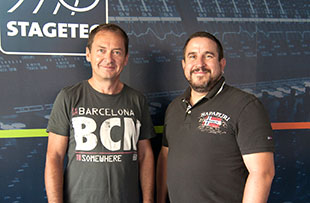 A trained electrical and electronics installation engineer, Friederich studied to become an electrical engineer at the DAG Technikum College in Würzburg, majoring in data processing technology. He gained several years' experience in integrating and overseeing building management systems at Robert Bosch, then worked in sales for Visolex in Berlin and product management for Wieland Electric in Bamberg.
Since 1998, Friedrich has been working for Salzbrenner media, focussing on product and project management, with projects including the refurbishment of the stage management and PA systems at the Sydney Opera House and the Darmstadt Staatstheater. He was also responsible for modernising the PA and evacuation system at the Mercedes Benz Arena in Stuttgart. Additionally, he oversaw the project integration and systems configuration of stage management and PA systems at the Staatstheater Wiesbaden, Muziektheater Amsterdam and the Den Norske Opera in Oslo. 'I have always enjoyed working closely with customers. I'm delighted at the opportunity to develop new markets and realise fascinating projects with Stage Tec,' he says.
Müller is a trained electrical engineer having graduated from the Erlangen Technical College where he majored in data processing technology. He has more than 20 years' experience in the industry, with projects including the Linz Music Theatre, the Munich Kammerspiele Theatre, the Bonn Opera House and the Bolshoi Theatre in Moscow to his name.
For the past two years, Müller has worked in Sales Support for Communications Equipment and Project Management. Here he has provided technical support in the sale of communications and media equipment for event venues and advised end0users and design offices on new projects. He also devised system concepts for budgeting and execution planning.
'I am convinced that my project experience will benefit the sales team and enable us to provide an even more comprehensive service to theatres. I am looking forward to my new responsibilities at Stage Tec and to working with my colleagues in Berlin,' he comments.
'Reinhold and Michael are well versed in working on projects with customers, planners and systems houses, and complement our sales team very well,' says Stage Tec Sales Manager, Alexander Nemes. 'Their professionalism and expertise will prove valuable as we intensify our sales activities.'
More: www.stagetec.com