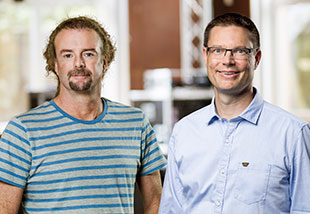 d&b audiotechnik has appointed Jan Biermann to succeed Frank Bothe as Head of R&D. Bothe will now focus on the company's medium to long-term technology in his role as CTO, while Biermann will be responsible for implementing product development projects, reporting to d&b MD, Markus Strohmeier.
'We searched for someone to further strengthen our already incredibly talented R&D team as we look to create the technologies that will shape the future,' Strohmeier says. 'The role that Frank's knowledge and vision has played in d&b's development to this point is immeasurable, and we are thrilled to find in Jan the experience and expertise to build on that work.'
After graduating in Physics Bothe joined d&b in 1990 and has been steering the company's technical direction since. With 50 co-workers in the R&D team, the department covers a growing range of disciplines from acoustics and loudspeaker design to an increasing focus on electronic hardware and software engineering.
'This technology diversification will promote d&b's continued success as it evolutes from a loudspeaker systems manufacturer to an audio technology solutions provider,' says Bothe. 'My priority now is to intensify our research into new fields and identify key technology trends. With Jan, we will be fully equipped to meet every challenge and opportunity that we face in an audio industry that is becoming more and more digital. We're in uncharted territory and Jan's leadership will inject a new momentum to take our expertise to the next level.'
Prior to joining d&b Biermann held positions as Director of R&D in the semiconductor industry, at NewLogic Technologies in Austria, and in the Bosch Automotive Electronics Business Unit in Germany, where he was responsible for 170 co-workers in Germany, India, and the Philippines. He holds degrees in Electrical Engineering from Technical University of Darmstadt, and in Business Administration.
'It's already clear to me that the driving force at d&b is curiosity and a passion for sound,' Biermann says. 'I'm looking forward to working with the team to design and deliver the audio technology solutions that will shape shared experiences in the future.'
More: www.dbaudio.com