Autograph Sound Recording Ltd has appointed Scott Arnold to the position of Managing Director. He will also assume a directorship of Autograph Sales & Installations.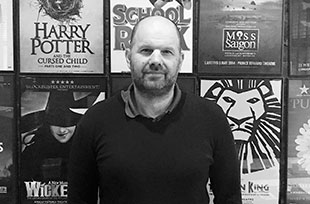 Arnold was appointed to the main board of Autograph Sound in June 2013 as Hire Director, having joined the company's service department in 1997 and subsequently being appointed to head the hire division in 2002. Former MD Terry Jardine, who joined Autograph Sound in 1989 and was appointed MD in 2000, assumes the role of Group Chairman but is moving to an additional role within the company – a noted theatrical sound designer in his own right, his new position allows him to refocus his passion on that discipline and to lead Autograph's internal team of sound designers.
This marks my 20th year in Autograph Sound,' Arnold observes. 'Some things – notably much of the technology we employ daily – have changed beyond recognition in that time, but many others continue to reflect the original vision of company founders Andrew Bruce, Philip Clifford and Julian Beech.
'We are busier than ever, both in the West End and with our touring shows, and I believe that is because we never stop trying to do better. We are currently expanding our operational activities into new areas and our Sales & Installations division are successfully bringing style and techniques developed in the West End and on Broadway to venues big and small all over the country. I see my role as continuing to build on the brilliant work of those who have brought Autograph this far.'
'What excites me most about this latest episode in Autograph's 45-year history is the mix of youth and experience, tradition, taste and fearlessness demonstrated by Scott, his FD Duncan Bell and all those who have moved into places supporting them,' Andrew Bruce says. 'I'm proud to have laid the foundations to enable such a talented group of people to continue to do great things for sound in the theatre and all branches of live performance.'