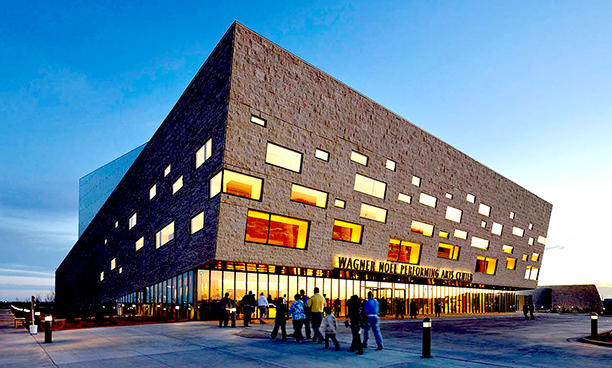 Opened in 2011 with a gala concert featuring Rod Stewart, the Wagner Noël Performing Arts Center (WNPAC) is an US$81m music and theatre complex that includes a 1,800-seat performance hall, intimate 200-seat recital hall and the University of Texas music department.
As the main hall's original PA system has consistently failed to meet the venue's acoustical needs – the balconies that ring the interior right up to the stage make sound coverage virtually impossible using conventional sound reinforcement technology –WNPAC turned to A/V systems integrator LD Systems to design and install an L-Acoustics K2 solution.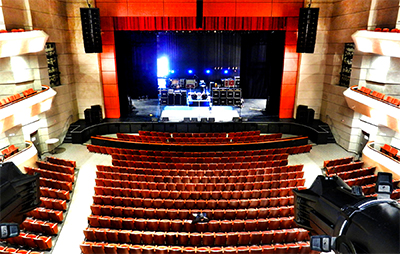 The new system is comprises 20 K2 boxes hung in an LR configuration, with eight K1-SB and four KS28 subwoofers providing low-frequency supprt. The Kiva II makes its first Stateside appearance in a PAS in this install – 14 are flown in a centre array for vocal reinforcement. Seven 5XT enclosures are used for front fill, with two ARCS Focus boxes serving as in-fills. Eleven LA12X and four LA4X AVB-enabled amplified controllers power and process the system.
'The big challenge here was sightlines that are fairly extreme – you have people who sit all the way along the edge in the balcony, close to the proscenium wall, so that means the main hangs have to be placed very close to proscenium walls,' explains LD Systems Sales Engineer, Kevin Broussard. 'The big benefit of the K2 system is its asymmetrical-pattern capability. We used the K2 in asymmetric mode and were able to keep most of the energy off of the walls and off of the stage, where it could create feedback problems. We're able to achieve very precise aiming. Nothing else could have addressed the balcony situation as comprehensively and elegantly as the K2.'
LD Systems technicians used L-Acoustics' Soundvision software, which provides accurate 3D acoustical simulation and real-time mapping of coverage and delay modes. In addition, since LD Systems is also a rental company and an L-Acoustics partner, it was able to deploy a K2 system from its rental inventory at WNPAC for a one-off event ahead of the installation as a proof-of-concept demonstration.
'We were able to fly the exact same elements in the exact same positions and showed the client that the K2 would overcome the room's acoustical challenges,' Broussard says. 'That demonstration just blew them all away.'
As did the first performance to use system – Mötley Crüe lead vocalist Vince Neil backed by Great White…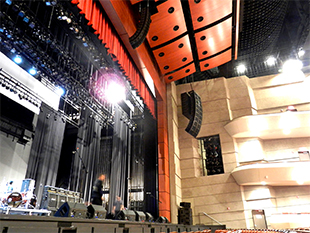 LD Systems also installed the new system in just five days, beginning by pre-programming amplifiers and DSP at its Houston office and minimising cable via networking. 'The installation and integration process never interfered with their production schedule,' Broussard says.
'Before, it was a constant battle with the old sound system – we were just never able to get the sound to cover the loge areas fully,' says WNPAC Senior Production and Operations Manager, Dave Davis. 'The ability to provide proper coverage of the theater and give each and every one of our patrons an enjoyable listening experience was one of our prime considerations in selecting L-Acoustics.
'Versatility was also important. Our venue can now handle just about any touring production's audio needs. Anything from solo acts, jazz, country, rock, metal and Broadway – it all sounds awesome on the new system. Sonically, the L-Acoustics system faithfully reproduces every nuance of a performance at any volume level. Simply put, these sound amazing in our venue. Now, when visiting audio engineers come in, you can see the smiles on their faces when they push up the faders and walk the room.'
The new system has done more than make WNPAC sound better – it's also helping the venue's bottom line by making it a more attractive stop for top touring acts. For instance, Davis recalls that before the L-Acoustics K2 arrays went in, many major touring acts would opt to unload and use their own sound systems.
'Now, when we advance their shows and they discover that we have the K2s installed, they gladly use the house system. It's less gear that they have to pull off their truck, so it saves them time and money at load-in and load-out, and it's made our facility a much more pleasant place to perform,' says Davis. 'It's been a real transformation – a good one.'