News
BYU-Idaho Center
BYU-Idaho Center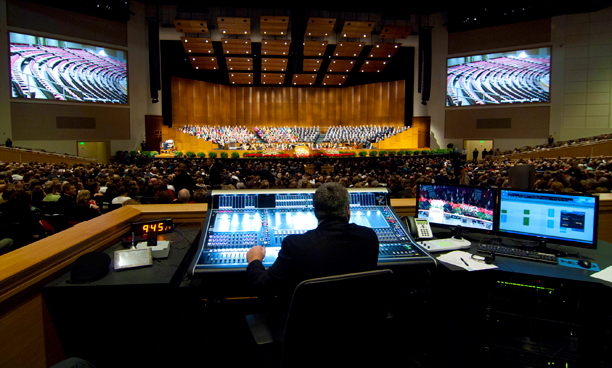 The BYU-Idaho Center brings a 15,000-seat auditorium and multi-purpose area (large enough for ten full basketball courts) to the Brigham Young University-Idaho.
In addition to recreational activities and social gatherings, the auditorium will be used for large-scale performing arts productions and a weekly devotional meeting, as well as academic and entertainment functions for students, faculty and the community.
The diverse requirements placed on the audio and video systems were not going to make the systems integrator's task a straightforward one...
Kitting out the venue with a suitable audiovisual system took roughly three years from conception to completion. Spearheaded by Senior Project Engineer Andrew Prager of New Jersey's Diversified Systems, assisted by BYU-Idaho's Audio Engineer David Mann, Diversified handled project design and implementation, installation and final testing. This was followed with training sessions for the in-house staff, once the gear was in place.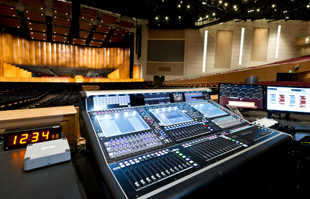 The first requirement for the audio was overall speech intelligibility. 'As this is primarily a worship facility, the spoken word is the reason the facility exists and was of utmost importance to everyone involved,' Mann explains.
Prager duly applied this to the system and its components – which included a front end and monitor mixer, digital signal processing, amplifiers and loudspeakers. The mixing console also needed enough inputs/outputs to be shared between both the FOH and monitor mixes. Additionally, it needed to be digital and fiber-optic based. As a result, the installation uses two DiGiCo SD7s and six DiGiRacks, one dedicated to each console at FOH and monitor world, with four shared between the two.
A fibre-optic-based system for audio distribution was also a priority, as it offers significant advantages including low latency and high speed. 'Obviously, the cost makes fibre budget-friendly but also the amount of information you can send via fibre-optics is incredible,' Mann says.
'Digital audio traveling as light instead of through copper is faster in terms of latency,' Prager agrees. 'It gives us a smaller cable pathway rather than big fat copper hoses running around the place, and there is a built-in immunity to grounding problems, which can be caused from different power ground and sources. We have a third-party digital audio transport system running Madi over Optocore – a dual ring of fibre that goes between the mixer and the DiGiCo stage racks. It's a very robust, very redundant system and because it's a ring there's a connection of fibre and the signal can just come from one way or go the other.'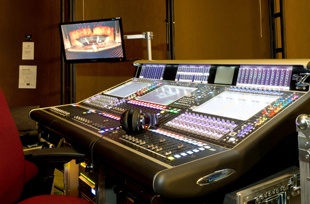 The DiGiCo consoles have run at a rigorous pace since their installation, on events ranging from BYU-Idaho's Tuesday devotional service to musical and theatrical productions. 'Both the events and the Tuesday services range in size and scope. The Tuesday service, with its single talking-head presenter, also showcases a special musical number, which ranges from a soloist with piano accompaniment to a 350-voice choir with orchestra. Depending on the week, it can be very simple or very demanding. On our typical devotional, we're running approximately six-to-eight inputs; on an elaborate one, it's more like 80.'
Perhaps one of BYU-Idaho's most elaborate events was the Savior of the World production performed in March, involving an 80-piece orchestra and a 230-voice choir. The input list in the high 80s, 40 of which were wireless mic feeds.
Coming from a live sound background, Mann finds the challenges of the worship environment to be quite different: 'When you're working with a band and vocalists, you generally get a good strong sound coming into your console so you have something solid to work with,' he says. 'In a worship environment, dealing with a single speaker on stage, especially in a podium-type situation, you don't always get a great level and so it's a challenge to get enough signal before it starts to feed back. That's my main challenge in this environment. I think I would rather mix a 300-voice choir and 80-piece orchestra any day over a single voice speaker.'
More: www.byui.edu
More: www.digico.org
More: www.optocore.com
Pat McConnell, Ed Capp: Sound Devices

Sound Devices has announce two internal promotions: Pat McConnell as VP of Sales and Ed Capp as Global Sales Director. In their new roles, McConnell and Capp will oversee the Sound Devices sales team,...

Read More...
1
2
3
4
5
6
7
8
9
10
11
12
13
14
15
16
17
18
19
20
21
22
23
24
25
26
27
28
29
30
31
32
33
34
35
36
37
38
39
40
41
42
43
44
45
46
47
48
49
50
51
52
53
54
55
56
57
58
59
60
61
62
63
64
65
66
67
68
69
70
71
72
73
74
75
76
77
78
79
80
81
82
83
84
85
86
87
88
89
90
91
92
93
94
95
96
97
98
99
100