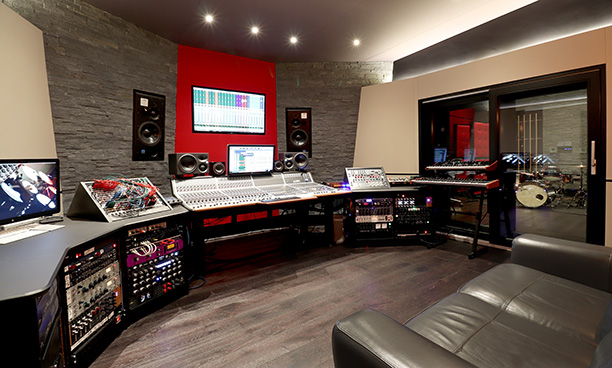 Rosewood Studios is a new purpose-built recording facility in Redhill, Surrey, opened by Edward Scull. 'I wanted to create a space that focuses solely on the musician and the music itself,' he says. 'Our mantra is to create an optimum space for creativity to flourish. As soon as you walk through the door the outside world stops, there are no distractions, a nod to the studios we had back in the day.'
The studio features a large 5m-high live room that houses a 115-year-old Weber grand piano, while the control room is equipped with an Audient ASP8024 HE console supplemented by high-end mic preamps and outboard from the likes of Neve, SSL, Manley, Chandler, API, Thermionic Culture and Prism Sound.
An indulgent selection of mic preamps is accompanied by a mic cupboard containing more than ten Neumanns, Coles and Samar ribbons and the usual dynamic mics required in a professional tracking studio. Main monitoring is with ATC SCM100ASL, Neumann KH310A and Avantone Mixcubes and there is a Livemix AD24 system for foldback. The target recording system is Pro Tools HD, with 32 channels of Avid HD I/O. The Audient has a DLC section for DAW control. The studio operates alongside Scull's percussion hire company, which features full orchestral percussion, Latin percussion and many weird and wonderful FX. There are also more than 20 industry leading drum kits and 50 snare drums to choose from.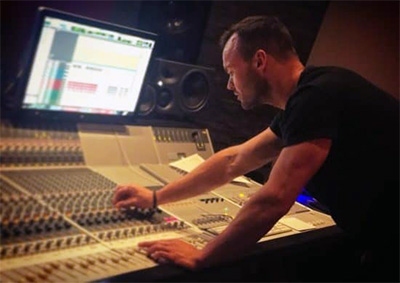 'My studio and vision is centred on having the best sounding live room possible that also feels great to be in,' Scull says. 'The benefits of this are two-fold – obviously to get a great sounding recording, but even more so that the musicians will respond to being in a good acoustic space, allowing them to achieve their best possible performance. There's nothing less inspiring than recording in a completely dead booth…'
The installed was handled by Studio Creations, along with acoustics by Chris Walls of Level Acoustic Design.
'The whole team were an absolute pleasure to work with. Nothing was too much trouble and I was never told that an idea was impossible,' Scull reports.
Rosewood offers a wide range of services from dry studio hire to a comprehensive service, including set-up, gear, instruments and backline, as well as catering and travel/accommodation. It is also able to offer remote services, including overdub sessions through to writing/arranging/recording without clients needing to attend the studio. Iys in-house team comprises Scull and head engineer Sebastian Truman. Scull has a background in classical music and is a classically trained percussionist, a Foundation Scholar of the Royal College of Music and a winner of the Royal College of Music Concerto Competition. Scull performs extensively in all the major London Concert Halls and several times a year with Rick Wakeman. He also recorded the Symphonic Version of Pink Floyd's Wish You Were Here album at Abbey Road Studios.
The studio's 'old-school' theme extends to the look of the Audient desk: 'The new aesthetic really makes you feel like you're working on a vintage console, except with the delightful twist that all the buttons work properly,' says Truman. 'It's amazing how much of an affect the visual aspect can have on the overall feel of your workflow.
'I really love the additions to the master bus section,' he continues. 'The Retro Iron adds wonderful depth to the sound that I would otherwise have to achieve with some transformer-imitating plug-ins, and the bus compressor with the Bass Expand option really allows you to shape your overall mix exactly how you want it. Initially I would just use it when tracking, to very quickly get your monitor mix sounding polished without having to reach for external outboard, however I'm amazed how often this has stayed on for the final mix. There's something about the character that is very pleasant, especially for drum-heavy music.'
Truman studied on the Tonmiester course at the University of Surrey, and has worked at the likes of Abbey Road, Tileyard Studios, Spitfire Audio and as engineer/assistant composer to film/TV composer Christian Henson. He has worked with the likes of Sir Paul McCartney, The Military Wives Choirs, Ella Eyre and The Cribs, and has worked on TV shows and soundtracks for film.
More: www.rosewoodmusic.co.uk