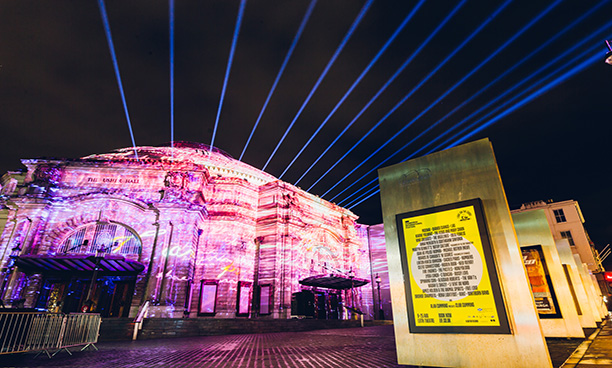 The Warehouse provided an advanced audio solution for Edinburgh International Festival's spectacular opening event, Five Telegrams, which was attended by 15,000 people and marked the beginning of the 2018 event.
Five Telegrams is part of the 14-18 NOW project, a five-year programme of arts experiences designed to 'connect people with the First World War'. The Warehouse has worked with the festival for more than 27 years, with each opening event proving more challenging than the last. This year, The Warehouse fielded an Adamson Systems sound reinforcement system for the first time.
For Five Telegrams, The Warehouse worked with festival Head of Sound, Tom Zwitserlood, Production Manager, Murray Boyd, and Technical Director, John Robb, together with Olivier Award-winning sound designer Gareth Fry.The main LR set-up comprised hangs of E15 line array loudspeakers with S10 front fills and E119/S119 distributed subbass. There were further S10 front fills and six S10 per side on delay towers. The loudspeakers were powered by Lab.gruppen PLM 20K44 amplifiers and optimised using Lake processing on a Dante network. A Yamaha QL5 mixer served as main FOH console, with Shure Axient radio mics and DPA Microphones on stage. The show sound was mixed by Gareth Fry, with systems and RF managed by Douglas Martin, Simon Meadows, Graeme Brown and Kieran Blair.
Five Telegrams followed in the footsteps of previous multimedia opening events – The Harmonium Project, Deep Time and Bloom – and was equally ambitious in scale. The performance weaved together a newly commissioned orchestral score, projected digital artworks and live participation.
The event was a collaboration between Scottish contemporary composer Anna Meredith, and 59 Productions, which has have been behind the festival's three previous opening events. Meredith's music has been performed worldwide including at the BBC's Last Night of the Proms. 59 Productions is the company of artists behind the record-breaking David Bowie is exhibition and the London 2012 Olympic Games opening ceremony. The large-scale multi-media Five Telegrams production brought together a symphony orchestra and youth chorus, with illuminations and projections at the Usher Hall.
'The Warehouse has an amazing history of working with the Edinburgh International Festival,' says The Warehouse Director, Derek Blair. 'Each opening event gets more and more spectacular. The vision and scale of ambition and innovation showcased in Five Telegrams was outstanding, and sound had to be equally spectacular. I think this was achieved very successfully with the Adamson system.
'The Edinburgh International Festival opening event always puts a huge spotlight on Edinburgh; it's a world class event that we are so proud to be part of.'
See also: