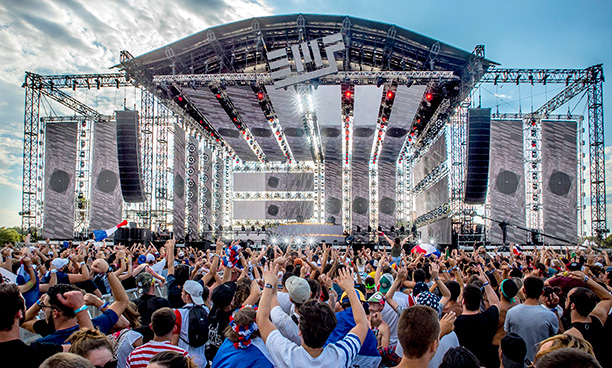 Staged in Barcarès, Electrobeach is the France's largest electronic music festival, featuring more than 100 DJs and hosting around 100,000 people over its three days. This year's event broke new ground by employing Funktion-One sound systems on all four of its stages – in the process reducing power draw for the main stage to a tenth of that required last year.
To meet the needs of such a large-scale event, Funktion-One specialists from across France and beyond came together to work on the festival. Heading up the project was Concept Group, based in the south of France, who in turn brought together Solution One from Montpellier, Remote from Paris and Think! AV from the Netherlands.
Augmenting this super-group of suppliers was a team from Funktion-One HQ, including company co-founders and R&D masterminds Tony Andrews and John Newsham.
Leading the charge on the Main Stage, was a Funktion-One Vero large-format vertical array. Though it shares the same convenience that has made line arrays so popular, Vero works on a completely different set of acoustic principles – claiming unprecedented clarity and efficiency for organisers and concert-goers alike. The Vero system uses a 3x15 mid-bass horn-loaded cabinet along with dedicated 90° and 60° mid-high. These can be configured in any arrangement to perfectly suit any given environment.
The customisable nature of the Vero system delivered a number of advantages that proved particularly useful on Electrobeach's Main Stage.
'The festival site is surrounded by residential buildings, which we want to keep the sound away from much as we can,' Newsham explains. 'Being a completely horn-loaded system means Vero has a very accurate coverage pattern – we can control our output and keep it focused on the audience, rather than it spreading to other parts of the environment.'
An additional benefit was in the incredible throw achievable with Vero. Festival organisers wanted to avoid the use of delay towers, while at the same time ensuring good quality coverage all the way back to the huge landlocked steel boat that sits on the beach some 120m away.
As well as operating with no onboard system EQ, the Main Stage sound was unaffected by the coastal wind. 'We're noticing that, despite the site being really windy, we're not getting the normal phasing problems because it's not summing in the near field,' explains Andrews.
The Main stage hangs comprised ten V60 (mid-high loudspeaker providing 60° horizontal), 12 V315 (mid-bass horn loaded loudspeaker) and eight V90 (mid-high loudspeaker providing 90° horizontal coverage). Thirty-two V221 subs and eight V132 super subs were stacked in front of the stage, with four Evo 7/TH used as out fill and two Evo 7 for centre fills. 22 Lab.gruppen PLM amplifiers powered the system.
'It sounds brilliant,' reports Yannick Hoogerwerf of Think! AV. 'The stereo image is the widest I've ever heard on a PA and the bass is really deep and firm because of the F132s – basically we have a five-way system. It's really even and it throws a lot further than any of my expectations.'
'It's the first outing for Vero in France,' says Chris Hawkes of Solution One. 'We've had it up for a couple of days and we've had amazingly positive reactions. Everyone's confident that we're going to give the crowd a new experience. Certainly, the music we've been feeling in the soundchecks has been something that I've never experienced before.'
'It is the first time I've worked with Vero and I really like it,' adds Paul Meskel of Concept Group. 'The low ends are really punchy and tough, and it's got so much projection – I really love the sound of this PA. The good thing about the system is you can play really loud, but the sound is never aggressive at all. It's really pleasant to hear. There's a lot of pressure – a lot of impact, especially in the low end – but it stays clear and not aggressive at all.'
Funktion-One Evo systems also served the remaining three stages – on the Techno Stage, the system comprised six Evo7T, six Evo7TH, six Evo7TL215, two Evo7TH in fills, ten F121, four F132 and PSM318 monitors. On the Beach Stage, were four Evo6E, four Evo6EL, eight F124 (configured in a compact delta array) and PSM12 Monitors with Minibass 212 were used, while over on the Hardstyle Stage, four Evo7T, two Evo7TH, two F315, 12 F121 and six BR221 were on duty.
More: www.funktion-one.com