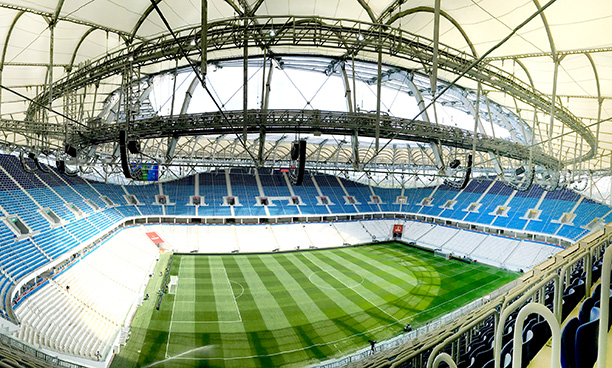 Funktion-One Russia has supplied and installed a permanent sound system at the Volgograd Arena – one of the World Cup 2018 stadia. Working closely with the Funktion-One design team in the UK, the company specified a system that features 638 Funktion-One loudspeakers and 50 MC2 Audio amplifiers.
The project, which began in spring 2017, demanded high-levels of support and commitment from both manufacturers, in order for Funktion-One Russia to meet all of criteria and deadlines en route to delivering a world class audio installation.
The loudspeakers are accurately arrayed and aimed using bespoke metalwork – 24 C-shape clusters along the sides and 12 Y-shape clusters for the corners. Each array features Evo 6SH loudspeakers with 50° horizontal dispersion for the closer seats and Evo 7SH loudspeakers with narrower dispersion and resulting higher intensity for the further seats. Alternate clusters are supplemented with either two F215 Mk2 mid/bass or a single F221 enclosures. Under-balcony coverage is provided by Funktion-One F81 and F101 loudspeakers.
'Following large-scale installations for the Winter Olympics in Sochi and for Krasnodar stadium, we're honoured to have now supplied the loudspeaker system for the Volgograd Arena World Cup stadium, particularly in light of the historical significance of the city,' says Funktion-One Sales Director, David Bruml.
Amplification comes from 50 OEM Delta amplifiers from MC2 Audio. The amplifiers are all quad output, providing 200 channels of DSP and amplification, and a total power just short of 500kW. 'All the amps are connected via Ethernet and configured using our AudioCore: Amped Edition software with our killer new feature – grouping architecture,' explainsRichard Fleming, Sales & Applications Manager, who was involved in drawing up the specification of the amplifiers. 'This allowed channels to be logically grouped and sub-grouped to minimise the apparent complexity of the system, simplifying it from 200 channels down to just eight sets of grouped controls.'
'This was an amazing opportunity to showcase our latest DSP amplifier platform, and we were thrilled that Funktion-One chose to specify DSP amps exclusively for the entire system,' adds XTA Technical Brand Manager, Waring Hayes. 'The amplifiers come in DSP and non-DSP (but still with network audio) flavours, so the additional monitoring and control aspect was important in the choice of DSP models.'
'The fully redundant Dante network and easy control of this huge system is second to none,' adds Funktion-One Russia's Andrey Kremenchugskiy. 'It gives me the confidence to say that we have installed a system of the highest audio quality from these two prestigious British manufacturers. It sounds absolutely amazing and, long after the World Cup is over, I expect it to be thrilling sell-out 40,000 crowds.'
'John Newsham and I visited Volgograd in May 2018, ahead of the World Cup, to help finalise tuning,' Bruml reports. 'The system performed fully as modelled and predicted during the design phase. The sound feels perceptibly close to the audience, with an intimacy and accuracy rarely heard from stadia sound systems. We are extremely happy with the installation, and are grateful to our Russian partners for their unwavering support and excellent communication throughout. The whole company was energised by this major contract, which is among the largest Funktion-One installations to date.'
More: www.funktion-one.com