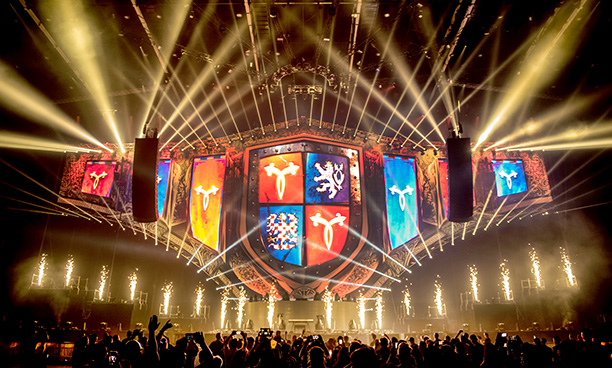 Transmission Festival Asia returned to Bangkok in March, unleashing a frenzy of EDM, mixed by world-renowned DJs and delivered with a Funktion-One sound system.
For more than a decade, United Music Group's Transmission Festival series has delivered EDM spectaculars to a growing global audience. Each year, the team serves up a fresh edition of the event, which brings together an impressive roster of DJs to perform in a continuous chain of sets, thematically linked under a single narrative. This year's event adopted the theme Spirit of the Warrior, a concept introduced and expanded throughout the night by specially created video content displayed on giant video screens.
A loaded package of lights, lasers, live performers and pyro provided 360° of pounding visual intensity, while a Funktion-One system comprising Vero vertical arrays and Evo series loudspeakers ensured comprehensive coverage and euphoric audio clarity for the assembled.
UK-based Funktion-One supplier Audio Plus was responsible for providing the entire audio system – a continuation of the relationship first forged in 2009, when organiser and promoter Anco van der Kolk first approached them to provide a world-class PA for the original Transmission events in the Czech capital of Prague. Following the incredible success of those early European shows, Transmission spread wings, going global by perfectly replicating each themed experience for audiences in Melbourne and Bangkok.
When no suitable Funktion-One system could be sourced in Southeast Asia, van der Kolk again turned to Audio Plus, who agreed to ship out the required gear to Thailand for the event – ensuring the same high standards of audio quality could be maintained.
The system used at the Bangkok International Trade and Exhibition Centre (BITEC) – the venue for Transmission Festival Asia – mirrors the one used at Spirit of the Warrior's debut in Prague in 2017, albeit adapted to suit the specific requirements of the site.
Funktion-One's Vero vertical array system formed the heart of the PA. The two main hangs comprised five Vero V60 mid-high enclosures with 60° horizontal dispersion, five Vero V315s mid-base enclosures and four V90 mid-high enclosures with 90° horizontal dispersion per side. A centre spaced sub array of 24 Vero V221 bass enclosures provided the low frequencies for the venue. Two Evo 7Ts, two Evo 7THs and two Evo 7TL-215s per side were flown as delays, while six Resolution 5Ts were used as fills along the down stage edge.
Two PSM318s brought Funktion-One fidelity to the DJ booth. Behind the scenes, amplification comprised four V-Racks (three PLM20K44 per rack), two PLM20K44 and three Audio Plus ES8 amplifier racks (with two MC2 E100 and a XTA DP448 in each). Audio Plus also provided a bespoke control system that included a DiGiCo SD8 mixer with custom Lake drive system incorporating Dante audio networking and distribution.
'Vero and the Evo are both fantastic products,' says Audio Plus Project Manager, Kris Hayes. 'What Funktion-One have done with the sound of both systems is huge – especially in the low mid range – and the practicality of both Vero and Evo have made a massive improvement to our workflow on site.'
The BITEC's acoustically challenging nature made the precise controllability of the Vero an invaluable asset. 'Having three individual cabinets meant that we could configure the system to our exact specification, using the projection software to ensure we had an even coverage throughout the venue,' Hayes says.
The speed of installation provided by Vero's Lambda flying system was another huge advantage. With its FlyGrid telescopic boom and enclosure FlyPlates (integral to the V60, V90 and V315), the Lambda system allowed swift, safe, easy installation – even enabling inter-cabinet splay angles to be adjusted while the enclosures were in suspension.
'It's such an easy system to fly, even with the language barrier, the locals had the hang of adding cabinets and setting angles on the array as it's going up,' Hayes adds.
Having delivered Transmission Asia to universal acclaim, Universal Music Group and Audio Plus now turn their focus on forthcoming Transmission events. These include a regular European outing in Prague in October, as well as the Transmission stage at the Airbeat One festival in Germany – both of which will enjoy the a Vero system.