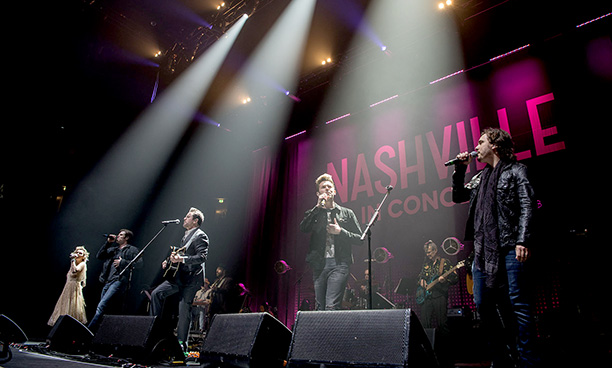 CMT's Nashville television series took to the stage as Nashville in Concert recently returned to the UK for a second run of sold-out arena shows following the success of 2017's tour. Providing audio, video and lighting, Liverpool-based production company Adlib consolidated its relationship with the production crew from Grand Ole Opry in Nashville, Tennessee.
Adlib again supplied an L-Acoustics system, typically comprising 16 K2 with 15 Kara boxes for the side hangs. These were accompanied by 16 groundstacked KS28 subs, set eight-a-side running in cardioid mode, plus Kara and ARCS for infill and lip-fill. Processing used a standard Adlib Lake rack, loaded with two Lake LM 44s and two LM 26s, with L-Acoustics' Network Manager controlling L-Acoustics LA12X amps.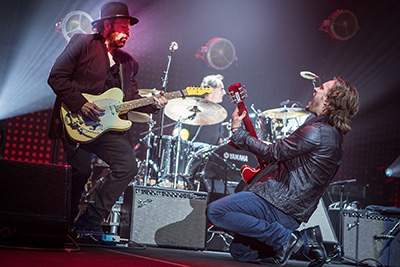 The format was as for 2017 – a tight house band supporting a selection of cast from the series including Jonathan Jackson, Chris Carmack, Clare Bowen, Charles Esten and Sam Palladio. They played a set of new and favourite songs from the latest TV series, together with their own original material and a few 'surprises'.
Adlib Systems Engineer George Puttock worked alongside Hassane Es Siahi and Mike Thorpe, hosting Nashville's own engineers to ensure that all requirements were met. For the six musicians in the band, the five backing vocalists and the cast/soloists, they used Shure PSM1000 IEMs and d&b audiotechnik M2 wedges for monitors. Adlib also supplied a full complement of mics.
The Nashville engineers – Jayme Braun (FOH) and Josh White (monitors) – both specified Avid Venue mixing consoles, and Puttock ran the system via AES with full redundancy.
Es Siahi commented that Josh was 'an amazing engineer with great communication skills' and that he really enjoyed the experience of working with him and the rest of their team, 'They are very talented and also very down-to-earth considering they work for some of the biggest country stars in the world! Fabulous people to work, spend time and do business with'.
'Having Betsega Bekele back again overseeing the tour and Mike Sponarski as production manager, meant we could almost carry on from where we left off last time,' Client Manager Phil Kielty adds. 'The atmosphere behind the scenes is really great and every one of us loves working on the tour. Having to supply the IMAG on the tour this time, was a challenge but a happy one, as the show looked and sounded incredible.'
More: www.adlib.co.uk