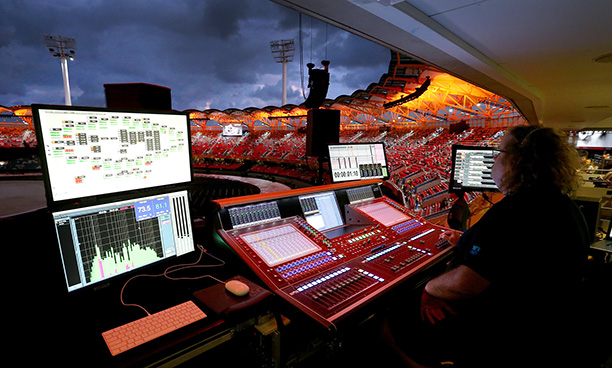 Official audio supplier for the Opening and Closing Ceremonies of the Gold Coast 2018 Commonwealth Games, Norwest Productions' site-wide signal distribution relied on an Optocore optical fibre network.
After the Opening and Closing Ceremonies for the Sydney 2000 Olympic Games first put the company on the world stage, Norwest won the competitive bid for the2018 Commonwealth Games, and worked alongside event organiser, Jack Morton Worldwide, to serve the 25,000-capacity stadium. 'The ability of Optocore to operate interchangeably on both multimode and single-mode fibre allowed us to effectively utilise our inventory and operate over long distances,' says Norwest Project Manager, Andrew Marsh.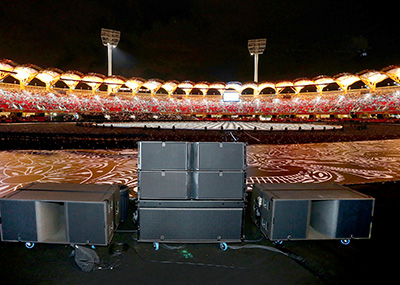 Norwest bolstered an existing inventory of Optocore converters for the occasion, adding quantities of X6R-FX-8AE/8MI, X6R-TP-16MI, DD32R-FX and DD4MR-FX interfaces – both for this and other projects. 'Since we have taken to using Optocore as both our main and backup network on large special events we recently decided to proceed with another sizeable purchase from the 'R' FX range,' Marsh explains.
The Optocore system additionally enabled DiGiCo desk integration with current firmware and access to increased monitoring capabilities in the recent Optocore software releases. The design itself comprised an Optocore dual redundant ring network of decentralised devices in the form of a 17-node network, all duplicated in a main/backup system, at points including the Speaker Positions, Show Control, Stage, Patch, RF/IEM, Broadcast, other integration locations. The fibre lengths ranged from 75m to 900m.
The drive racks comprised more than 50 Optocore devices, including 17 DD32R-FX, eight DD4MR-FX, a DD2FR-FX, 12 X6R-FX-8AE/8MI, six X6R-TP-8MI/8LO, four X6R-TP-16MI, six X6P 16 In, four X6P 8AE/8MI, and two X6 16 Out units. These fed a large L-Acoustics K2/KS28 sound reinforcement system from DiGiCo SD5 and SD9 digital consoles. Additional Madi signal transport was handled by RME and DirectOut M.1k2 Madi routing matrices.
'The load in had to be implemented to a tight schedule, and the ability to configure and line-check in the warehouse and simply plug the fibres in on site was key to fulfilling this,' says patch/systems engineer John Watterson.
In addition to Marsh and Watterson, Norwest's team included Ian Shapcott (FOH mix engineer/PA designer); Chad Lynch (FOH Systems/FOH Eng 2); Ian Cooper (Patch/ Systems Engineer – Closing); and Matt Whitehead (Patch/Systems).
The Gold Coast Games ended with the passing of the flag to Birmingham, host of the 2022 edition. For Norwest, this year's event follows closely behind the Opening & Closing Ceremonies of the South East Asian Games in Kuala Lumpur last year, in which the production company also placed the audio on an Optocore fibre ring.