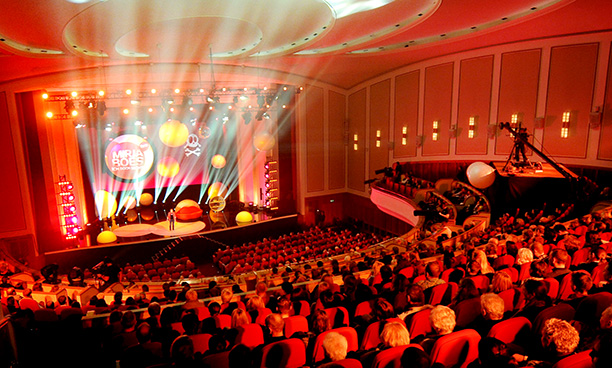 During the 1950s and 60s, Essen's Lichtburg was one of the most important premiere cinemas in Germany's Federal Republic. Today it remains Germany's largest cinema, lending its historic ambience to film premières.
The demands on such a premiere cinema are high. With the projection technology of the hall already up to date, the sound system has also now been renewed. 'With the renovation of the cinema sound system we want to live up to the increased expectations of our visitors,' says Marianne Menze, MD of the Essen Filmkunsttheater and operator of the Lichtburg.
Since the landmark architecture of Lichtburg differs from a standard cinema, a sui generis solution was required – and an Alcons Cinemarray CRA30 chosen to cover the very large hall and its curved balcony. The Cinemarray CRA30 is a three-way sound system designed for digital applications in large premium cinemas that demand the highest quality with perfect sound reproduction and coverage.
Behind the cinema's 150sq-m roll-up screen are three arrays comprising two CRA30N (narrow) and a single CRA30W (wide) enclosures. Two groundstacked CB362 (2 x 18-inch bass) are responsible for the LFE-channel. All systems are driven and controlled by a total of five Alcons Sentinel10 amplified loudspeaker controllers, each CRA30 module is operated with two amplifier channels.
'In contrast to the traditional appearance, the Lichtburg has always aspired to be technically on the latest and the highest quality level possible,' Menze explains. 'This is what our visitors expect, and is one of the basic prerequisites for the Lichtburg remaining among the leading premiere venues in Germany. As a result, it soon became clear that only a correspondingly sophisticated installation would be suitable for us.'
Since the large screen can be rolled up, the cinema hall can also be used for theatre performances, cabaret, concerts and presentations. Here, too, the Alcons pro-ribbon Cinemarray system meets the brief 'Of course we were also happy to install a system that is also perfectly suitable for stage events and thus eliminating the absolute necessity to hire equipment,' Menze adds.
Since its installation earlier in 2018, the new sound system has now been used without exception: 'The Cinemarray is a big leap forward in terms of homogeneity of the sound in all places. The Lichtburg, with its classic balcony architecture, is very challenging but also in other respects significant improved, and the dynamics and the resolution of the sound are immediately noticeable.'
More: www.alconsaudio.com