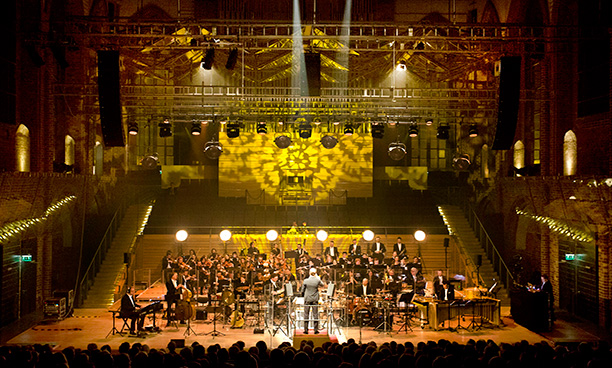 The Neue Philharmonie Berlin is touring Germany with a sophisticated crossover programme featuring Latin, jazz and classical music entitled Latin-Jazz Sinfónica!
Supported by Berlin-based audio systems manufacturer Stage Tec, the production uses an ensemble of 65 classical and jazz musicians, and Latin percussionists. Live mixes are handled by a 32-fader Stage Tec Crescendo platinum mixing console, feeding 120 TrueMatch microphone inputs in a Nexus network record the large orchestra and rhythm section.
'The unusual placement of the rhythm section with congas, marimbas and drum kit in front of the classical orchestra poses a challenge for sound reinforcement,' Sound Designer Christian Fuchs admits. 'Additionally, the changing venues are demanding in terms of acoustics and demand a lot from the live mix. After all, the mix should be a listening experience for the audience.'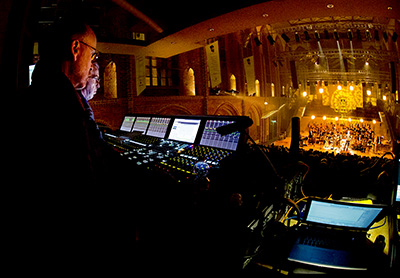 Specialising in theatre and live work, Fuchs has more than ten years' experience in classical open-air concerts and is on the tour as the sound engineer on the Crescendo. With the Crescendo platinum as the FOH mixing console, a new feature was employed when creating the pre-mix for monitoring the rhythm section, which will be included in the console's next software release. It allows the bypass function to address for each aux VCA individually.
The Crescendo is connected to a Nexus network with six Base Devices and equipped with three RMDQ DSP boards. Since Nexus does not require any fans and is therefore completely silent in operation, the Base Devices can be located on the stage. One Nexus stands in front of the conductor, where percussion and drums are placed. A second Nexus works at the monitor desk, which is connected via Dante. Two further Nexus' are placed at the FOH console, and two additional Base Devices are distributed in the orchestra.
The Neue Philharmonie orchestra is a non-profit limited company with two goals – it enables outstanding musicians from all over the world to gain orchestral practice and expand their repertoire, while the Neue Philharmonie wants to bring classical music to small and mid-sized German towns, which cannot afford their own orchestra.
Latin-Jazz Sinfónica! is the first crossover concert given by the Neue Philharmonie. World music, jazz and classical music merge in original compositions and arrangements of popular melodies in a way never heard before.
More: www.stagetec.com