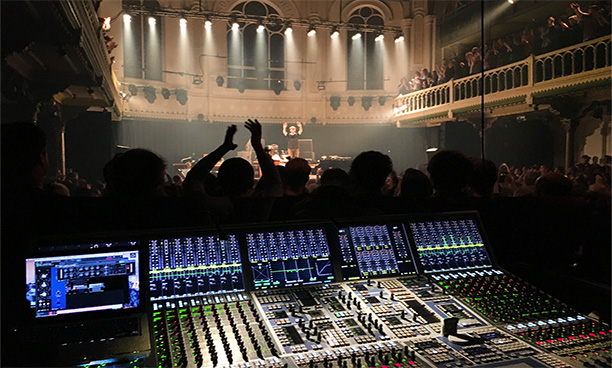 German composer, producer and performer Nils Frahm kicked off his latest tour at the Funkhaus in Berlin on a series of dates that will take him around the world for the coming two years. The concert sold out as quickly as other venues in Belgium, the Netherlands, France, Scandinavia, the UK, US, Canada and Japan. Accompanying him on all are sound engineer Terence Goodchild and an Aurus platinum from the Berlin-based manufacturer Stage Tec as his FOH console.
Piano and keyboard virtuoso Frahm makes electronic music with synthesisers, amplifiers, mixing consoles and pianos that straddles the divide between techno and classical music. In addition, in 2015 he won the German Film Award in the category Best Score for the film Victoria.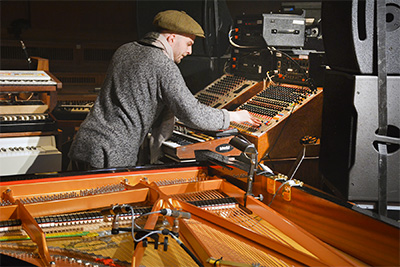 The Aurus platinum has 32 faders and is integrated into a Nexus network with three Base Devices. The four RMDQ DSP boards in the Nexus Star router allow for configurations with 90 input channels and 60 buses. 'So far, I've only used analogue technology for my performances, and not just because it avoids latency but also because I was convinced that it sounds better than digital systems.
'Then I heard Stage Tec's TrueMatch mic converter and could hardly believe it's digital. Latency is imperceptible and the audio quality is sublime,' he says. 'Ever since I started using Stage Tec live, I've been getting a lot of compliments on the audio quality and my performance has improved overall. Now I can't imagine a future without Stage Tec on my team.'
At the end of January Nils Frahm released his seventh studio album All Melody. It was created in the Berliner Funkhaus where the Berlin resident has his studio. The listed building in Nalepastrasse was the broadcasting centre of the GDR until 1990. Well-preserved, the music recording studios and the large broadcasting hall are world famous today for their excellent acoustics. Countless well-known orchestras, big music labels and famous groups record albums here.
More: www.stagetec.com