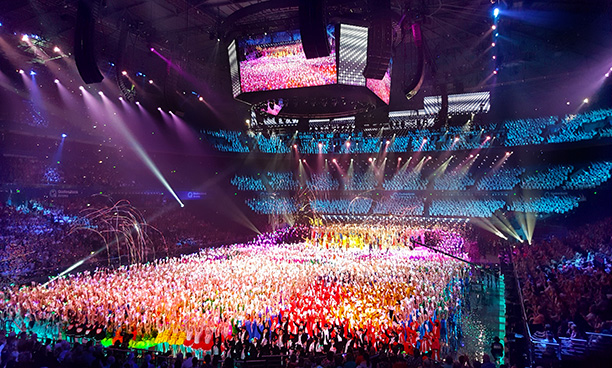 Serving live events across Australasia, the NW Group's audio specialist brands Norwest and Oceania have used L‑Acoustics system since investing in Kudo in 2006 for the Melbourne Commonwealth Games and Asian Games in Doha. The group has now added 370 L-Acoustics cabinets to its inventory, including a substantial L‑Acoustics K2 system, in anticipation of the upcoming Gold Coast 2018 Commonwealth Games.
NW Group's new system comprises 124 K2, 24 K1-SB, 60 KS28, 72 Kiva II, 24 SB15m, 24 SB18m, 42 ARCS WiFo and 18 LA-Rak II with 28 LA4X amplified controllers.
The timing of the purchase neatly coincides with Norwest being chosen to supply the sound system for the Gold Coast 2018 Commonwealth Games opening and closing ceremonies, which will be held on the Gold Coast in Queensland in April 2018. For Whitehouse, the Games are the 'ideal Ceremonies debut for our new rig'.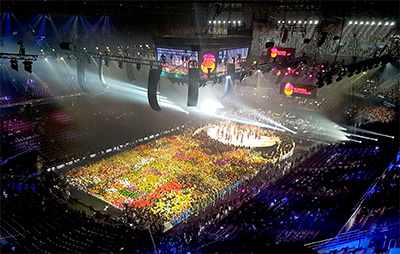 'We have had enormous success with our V-Dosc, dV‑Dosc and Kudo inventories. They have delivered a great return on investment and have been the cornerstone of our success in the Sports Ceremonies market,' says NW Group General Manager, Gra Whitehouse. 'Adding K2 made perfect business sense. It's a 'do everything' box, with the superior pattern-control option of the HF waveguide, lightweight, and exceptionally quick deployment. We fully expect K2 to help us grow our business in the high-level international Sports Ceremonies market.'
As well as the ceremonies, Norwest has been engaged to supply audio systems for all sporting venues for the Commonwealth Games. These were the impetus for adding the small, but powerful Kiva II, ARCS WiFo and X8. 'The sports venues will also soak up the rest of our smaller L‑Acoustics stock, including some 200 dV‑Dosc, 12XT and all our 108P,' Whitehouse says.
From a more traditional arts and entertainment perspective, K2 also teams well with the K1‑SB flown bass elements, and KS28 subwoofers for the large number of EDM festivals NW supplies.
'K2 is the perfect box for concert touring in this configuration, as well,' Whitehouse explains. 'L‑Acoustics is the most widely specified and accepted brand in the diverse range of markets we operate in. The products sound great, they deploy and rig quickly and safely, and they're exceptionally reliable. An important point for me has always been L‑Acoustics' commitment to making spare parts available and sensibly priced; there's no excuse for an L‑Acoustics speaker to not be operating as designed.'
NW Group's K2 system has been working hard since hitting its Sydney warehouse. Its first outing was for the New South Wales State Schools Spectacular in Sydney's largest indoor venue, Qudos Bank Arena. 'It's a high-level, nationally broadcast event on the yearly calendar, and we've been the incumbent supplier for nearly two decades,' Whitehouse says. 'We deployed well over 100 cabinets for the flown arrays, ensuring seamless coverage to the full house.'
Following this, and in the same venue, the NW team re-designed the system for another week of rehearsals and performance for the Australian Catholic Youth Festival. For these and other jobs, the system is drawing critical acclaim for its transparency and seamless coverage.
'We've always been happy with the service we've got from L-Acoustics and their local representatives. They're willing to communicate and do their best to make our timelines work,' Whitehouse concludes. 'They listen to the market and develop sensible product that fills needs. Since the establishment of their new production facility, we've found that to be even more so the case. And our technical crew have all fallen in love with the new system.'