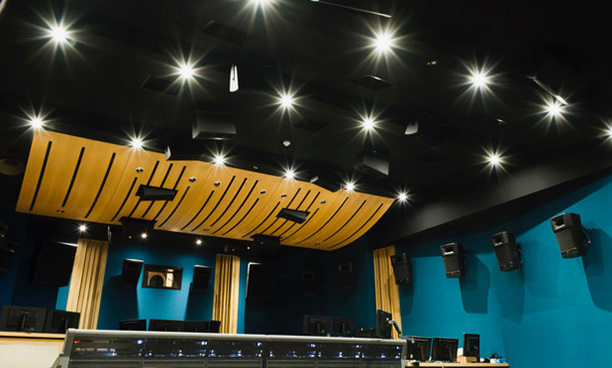 A £300,000 upgrade to the main Studio 1 film dubbing stage at London TV and film postproduction facility halo has converted the stage into a Dolby Atmos environment, based around 46 JBL loudspeakers, Crown DCi-N network amplifiers and BSS Soundweb DSP.
As one of only three cinema-scale audio mix rooms in central London, halo had earmarked this as the first phase in a comprehensive refit of the 10,000sq-ft building, after acquiring it in 2011 with the lease at 25 Noel Street in Soho. The system was supplied by Sound Technology, with technical support from Senior Application Engineer, Ben Todd.
The facility was initially reticent to change from an existing bi-amped JBL loudspeaker system: 'So we persuaded them to have a demo of the tri-amped [JBL] 3732T ScreenArray to ensure that their LCR channels were up to date and worthy of the room,' Todd says. Sound Technology provided demo units of all JBL loudspeakers and Crown DCi-N amplifiers for the purpose, and according to Todd, 'the demo convinced their well trained ears that the upgrade was justified'.
With halo Head of Audio Operations Richard Addis and Lead Mix Technician Johnathan Rush overseeing the implementation, a heavy commitment was also made to updating the room aesthetics, in order to provide a level of comfort and quality to match the already very highly regarded room acoustics.
The JBL 3732T is designed for use in both studio applications and the best of commercial cinema screens useing technology found elsewhere in the JBL range. 'What it means for engineers is that they can be confident that if a mix sounds right in halo Studio 1, then it should transfer especially well to the real world,' Addis says. 'There is a lot to be said for having the same speakers as you would expect to find in mainstream multiplexes.'
Dolby advised on the remainder of the system using various JBL 9300 Series Cinema Surrounds and JBL AC18 and AC28 overhead channels, along with JBL 4642A screen subs and 4645C surround subwoofers.
Crown's DCi Drivecore Network series amplifiers were selected as obvious partners. Their high-performance DSP and converters are accompanied by Blu link, Harman's low latency, high-channel capacity digital audio bus, which provides a high resolution, cost-effective and digital signal path in conjunction with the BSS Blu-806 DSP processor.
In this application, halo decided on the BSS Blu-806, with its configurable I/O, allowing ready switching from the Atmos configuration to 5.1, 7.1, Imax or DTS:X. 'The BSS Soundweb London platform is a proven product in multi-channel post production, and allows facilities the flexibility to design a control interface and signal path to suit their requirements,' Addis says. 'The Blu-806 also has the high quality audio path and well-respected filters that earned BSS their reputation for sonic excellence.'
The Soundweb device can receive audio via AES and Dante and route and condition the signal before passing it through to the amplifiers on Blu link. A Focusrite RedNet D64R provides the Madi-Dante bridge and interfaces between the Dolby RMU and BSS Blu-806. 'Using Blu link distribution to the amps means that significantly less cabling is required since all audio is distributed over a Cat6 ring,' Addis explains.
The studio was dark for just four weeks during which all the works had to be completed, tested and ready to start. 'Time was very tight, so there was no margin for failure,' Ben Todd recalls.
'We worked with [technology solutions provider] Jigsaw24 and halo to test the proposed digital infrastructure offsite and ensure that the different parts from all manufacturers worked in conjunction with one another and were set up for optimal reliability. The redesign of this 105-sq-m space, including the acoustics and repositioning of seats for editors, directors and clients, was undertaken by Level Acoustic Design'.
'The installation went unusually smoothly, which was a testament to hard work and meticulous planning,' Addis says. 'It was completed slightly ahead of time, which is almost unheard of.'
Since the upgrade, several major blockbusters have been mixed through the JBL Cinema System, including Ghost Stories, Darkest Hour and Paddington 2.
See also: