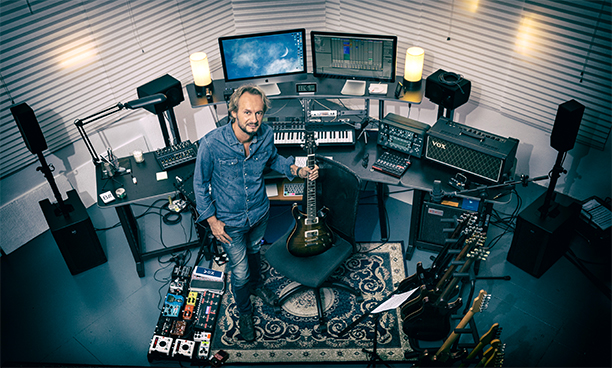 Seeking a 'live audio feeling' in his recording studio, Sanremo Orchestra guitarist Luca Colombo has installed an RCF EvoX 5 loudspeaker system.
'I usually shape my sound in the studio on the Kemper Amp [guitar amp simulator], then test the guitar sound live, but I constantly realise that the perceived sound from the studio monitors is misleading – mostly because of the lack of bass frequencies,' he explains. 'That's when I decided to try a number of small live sound systems...
'All of them sounded very good, but when turning up the volume, the definition went away. It was a different story with the RCF EvoX5 – the sound definition is precise, especially if you push hard with the volume. I have chosen them because of the definition at medium and low frequencies above all.'
Colombo is one of the most sought-after and critically acclaimed guitarists in Italy. He has performed with top artists such as Eros Ramazzotti, Marco Mengoni, Nek, Max Pezzali, Mango and Anna Oxa, and has played as first guitarist in numerous orchestras during important TV shows (including the Sanremo Music Festival, since 2007) accompanying Robbie Williams, Lionel Richie, Al Jarreau, Phil Collins, Leona Lewis, Rebecca Ferguson, Jennifer Lopez, Brian May, Michael Bublé and James Blunt. Recognised for his personal and versatile style, he is equally versed and expressive in genres as diverse as rock, fusion, jazz and pop.
In the course of his work he uses many different guitars and effects to play an enormous range of music, from the classic Italian canzone to funk and heavy rock. Every detail of his guitar sound is crucial. 'Things are different in the small venues, and I need to find a good balance by myself,' he says. 'After a few weeks of use I'm delighted with the EvoX5 – the feeling of the "live" sound is huge, and it's perfect for small shows, masterclasses or just for having a real concert feel here in the studio.
'I keep them mostly here in the studio, but I will also use them for masterclasses or showcases.'
More: www.rcf.it