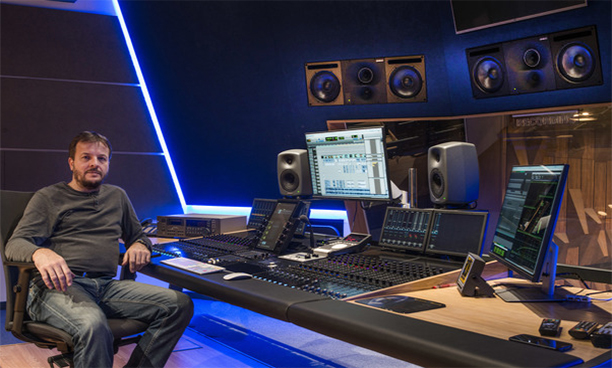 Radio and Television of Slovakia (RTVS) recently completed the renovation of its Studio 2 control room, including the installation of a Genelec 5.1 surround loudspeaker system. The Bratislava-based facility has also updated a number of editing rooms, studios and OB vehicles with Genelec monitoring.
The installations are the latest chapter in a long relationship between Genelec and regional partner Centron Slovakia. Over the course of 20 years, the two companies have provided bespoke solutions for recording, broadcasting and postproduction facilities across Slovakia.
Over the past two decades, Centron Brand Manager Richard Varkonda has helped shape the Slovakian industry, bringing his design skills to countless projects, alongside his understanding of Genelec technology. From specifying 1037 stereo mains into regional recording studios in the 1990s, to 1032-based 5.1 and 7.1 surround systems in the early 2000s, Varkonda has always sought to deploy the latest Genelec innovations.
'Richard was nominated as the Genelec Brand Manager of 2016,' explains Genelec Sales Manager for Eastern Europe and Russia, Jukka Latva-Hakuni. 'He has remarkable experience in designing high end control rooms within Slovakia that not only perform perfectly, but look amazing as well.'
Among past projects is the Slovak National Theatre: 'The audio system was designed by the general contractor for the theatre, who already understood their monitoring requirements and selected Genelec as the optimum solution,' Varkonda explains, adding that having agreed a Genelec 1038B system for the main control room, Centron was then invited to submit a plan for the video element of the design, plus accompanying monitoring. 'Thus we installed a 5.1 system based on 8020 monitors in the video control room as well.'
Another landmark project arrived in 2011, when Centron redesigned the recording control room of the Slovak Philharmonic Orchestra. 'The Slovak Philharmonic was under total reconstruction and included within the proposed plan was a new control room for music recording,' Varkonda recalls.
The proposed design was neither acoustically nor proportionally ideal, but where many would have seen a challenge, Varkonda recognised an opportunity: 'I completely redesigned the acoustics of the 5.1 control room – they chose us as an A/V turnkey subcontractor including audio, video, stage lighting and all acoustic design, and this was a chance for me to introduce a completely digital infrastructure into the room, largely thanks to the 1238CF SAM Monitor. We saved a lot of money by avoiding the need for an analogue matrix and converters - and we achieved bit-to-bit perfect reproduction.'
Most recently came the refurbishment of Studio 2 at RTVS Slovak Radio – home to the Slovak Radio Symphony Orchestra. 'There were already a number of sound engineers within RTVS who had experience with Genelec, and who had attended a presentation of SAM technology, hosted by Genelec R&D Director, Dr Aki Mäkivirta, in 2015,' Varkonda says. 'At that time, they recognised Genelec products as a new reference point for their facility. The technical director, Mr Zachar, and Chief Sound Engineer, Lubos Valky, decided that Genelec was the best brand for them, and so they chose my design.'
The control room is now equipped with a 5.1 SAM system, based on three-way 1238AC front channels and 1237A rear channels, plus a pair of 7271 subwoofers. The room is also distinguished as the only RTVS facility with monitors flush mounted into the walls. 'It is now the most powerful monitoring system within the RTVS building,' Varkonda reports.
'Slovakia is a culturally very strong, especially when it comes to music and symphony orchestras, so the work that Richard has been doing for Genelec is very important,' adds Jukka Latva-Hakuni. 'We are privileged to work closely with Centron Slovakia and with Richard, both designing these wonderful rooms and guiding the projects from their starting point to their completion. I look forward to another decade of great projects in Slovakia.'