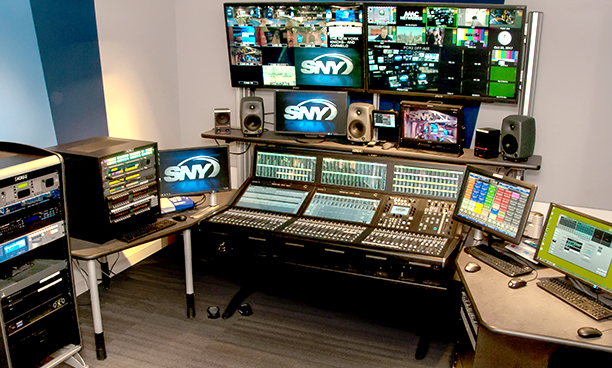 Moving to new studios located at the World Trade Center in downtown Manhattan, network broadcaster SportsNet New York (SNY) has re-equipped and upgraded its operation.
The move brings SNY two new audio control rooms, both using Solid State Logic System T networked audio broadcast production, and a fully redundant Dante Audio-over-IP Ethernet-based networking infrastructure. Each control room features a three-bay, 48-fader System T S500 control surface with dual touch screens and a pair of SSL Network I/O: SB 8.8 Dante stageboxes. Each controllers -s connected to dual-redundant T80 Tempest audio engines.
The official television home of the New York Mets baseball team, the New York Jets American football team, and the UConn Huskies Men's and Women's basketball programmes, SNY televises more than 125 Mets games each season, with pre- and post-game programmes plus additional Mets entertainment programming, airing throughout the calendar year. Annually it delivers more than 300 hours of exclusive content devoted to the Jets, around 350 hours of UConn programming, and comprehensive access to all of the Tri-State area's professional and collegiate sports teams through five nightly sports and entertainment programmes.
In the studios. six SSL Network I/O: SDI Bridges connect the studio's existing SDI production systems, and there are additional Network I/O: AES Dante units, as well as a selection of Dante stageboxes, including the Network I/O – SB i16 and SB 8.8s for studio connections.
Alex Blanding is VP Engineering at SNY, and he says that one of the most powerful things about the network's output and its production workflow is maintaining 'true 5.1'. 'We don't up-mix from anything or synthesise anything,' he explains. 'We mix in 5.1 from the get-go.
'And we maintain the 5.1 sound field profile as we go in and out of live games and in and out of studio programming. We produce all the Mets games from a remote production truck and patch that through, and as we go seamlessly to our post-game or pre-game shows we maintain that 5.1 presence throughout. That prevents a big change in the quality or the character of the output. It's important that the audience gets the best audio experience.'
However, Blanding says the final decision to go with System T had several aspects – a brand new generation of technology, investment in the future, SSL support, and features like full production automation support, and the multi-group Automix system that is integrated into the system architecture and available on every path. 'We use the Automix functionality in the console every day, on things like roundtable discussions and so on. That's a very powerful feature for us.'
Depending on the schedule, the audio control rooms operate with a mixture of hands-on and production-automated mixing. As SNY has invested in extensive Ross Overdrive control of its production technology, it is important that System T speaks that language. Indeed, System T can also be integrated with Grass Valley Ignite, Sony ELC and Viz Mosart production automation systems, as well as Ross Overdrive.
It was also vital to SNY that its Dante AoIP network, which incorporates System T, the studio I/O, and a Dante-based RTS-Omneo networked intercoms system, had seamless interoperability with its existing SDI-based workflow. The broadcaster uses six SSL Network I/O: SDI Bridges to provide bidirectional bridging between embedded SDI audio and the Dante IP audio network. The SDI bridge features eight SDI circuits, each capable of embedding and de-Embedding, as well as dual Dante and triple Madi connectivity. Internal channel-by-channel routing enables flexible routing between all three domains.
'The simplicity of Dante AoIP networking was important to us, and the fact that it is now so widely adopted, with so many other devices that can be connected together,' Blanding says. 'We certainly trust it. It's been very good and very easy to work with.'
SNY prides itself on maintaining true 5.1 audio while staying on top of a non-stop, varied schedule of live sports programming, discussion, and entertainment. In that, Blanding says, SSL is valued partner: 'Our trust and faith in SSL has built up over a ten-year relationship, with the C Series broadcast consoles in the previous building, to the point where we are very confident in the company, in the support of the product, and in the people that work for SSL here in New York.'
More: www.solidstatelogic.com