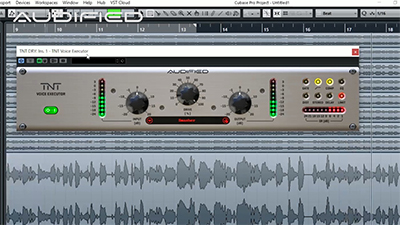 Audified's TNT Voice Executor plug-in promises 'no-nonsense' processing of vocal and spoken word tracks.
'Often clients want to have the final mix of a song right after recording, which is unrealistic in most cases, so I was in need of something that I could apply to recorded raw vocal tracks, set one parameter, bounce the song, and give it to the client within minutes,' explains TNT Recording and Postproduction Studios owner, Tomáš Trkal. 'I programmed something suitable and started using it, but when I started studying software programming at Brno University of Technology my teacher put me in contact with Audified CEO Lubor Prikryl. When I demonstrated my plug-in for him, he was so impressed that Audified decided to release it for all major formats, adding some professional standard features, such as metering and calibration to move the product forward.'
TNT Voice Executor offers EQ, Drive and Delay, alongside dynamics control.
'The plug-in consists of eight processing modules – noise gate, high-pass filter, compressor (up to three active instances of compressor with different settings in one module), four-band parametric EQ, distortion, stereo image enhancer, delay and limiter– that I typically use when mixing vocals. I've treated those modules very carefully, preparing lots of super-usable presets in collaboration with Audified Sound Designer Jarek Musil.
Organised in four groups, each preset contains several variants for both male and female voices. The right-side of the plug-in's GUI shows which effects are engaged and how much gain is being reduced.
More: www.audified.com