Louder Than Liftoff has added the Royal Blue Colour Module, bringing a 'Classic British Channel' to its Chroma and DIYRE Colour lines.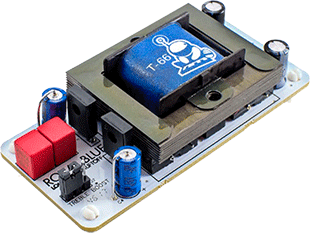 Colour is a modular platform for creating custom analogue signal chains, while Chroma is the world's first 500 series audio processor with Twin Tone-Amp architecture and the ability to accept real analogue plug-ins.
The Royal Blue circuit was inspired by the 1081 Channel Amplifier used in vintage Neve 80 Series recording consoles from the seventies. This mic/line preamp and equaliser module featured discrete transistor amplifiers and transformer-coupled input and output stages. Its powerful yet musical EQ section was state-of-the-art for its time with six bands.
With this as the starting point, Louder Than Liftoff has miniaturised the essence of the circuit to fit within the space limitations of the Colour format. Multiple transistor amplifier stages drive a custom steel output transformer that offers the characteristic tone one of the original LO2567.
The module includes the 4.7kHz Upper Presence shelving EQ per the original circuit with a fixed 5dB boost. When Royal Blue is fitted in Chroma, it offers control over the amount of boost via the C-Mix knob. This EQ boost can also be disabled via an onboard solderless jumper.
Key features:
Inspired by 1081 modules from Neve 80 Series consoles.
Discrete transistor circuitry adapted from BA306 and BA338 Neve amplifiers.
Tantalum capacitors and BC axial coupling caps like original design.
Custom American made steel output transformer.
Switchable 4.7kHz Upper Presence shelving boost.
Analogue plug-in compatible with Chroma.
Allows for 'N' into 'A' or 'N' into 'N' gain staging.
C-Mix knob allows fully variable 0–5dB EQ boost.
Compatible with DIYRE Colour.