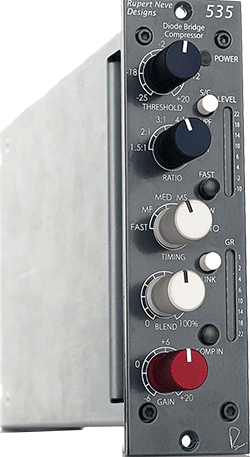 Rupert Neve Designs has announced the 535 500-Series Diode Bridge Compressor.
Based on the dynamics circuit of the company's Shelford Channel, the 'punchy and versatile' 535 captures the soul of Rupert Neve's original 2254 compressor while providing modern updates including advanced timing control, significantly lower noise, fully stepped controls throughout, and internal parallel processing capabilities. The 535 also uses custom transformers and class-A output amplifiers, all tailor-made for the 500-Series format.
'By understanding the limitations of the original 2254 topology, painstaking effort was taken to reproduce its unique tone while improving the noise floor, expanding inflexible time constants, adding full wave sidechain detection for improved dynamic response, widening the range of threshold and ratio controls, and raising the headroom of the diode bridge itself,' the company says.
'Almost 50 years after Mr Rupert Neve created the first diode bridge compressor designs, the 535 reimagines the larger-than-life personality of these classic circuits with new levels of precision and adaptability.'
The 535 is now shipping worldwide, with a manufacturer's suggested retail price of US$1,095.
More: http://rupertneve.com