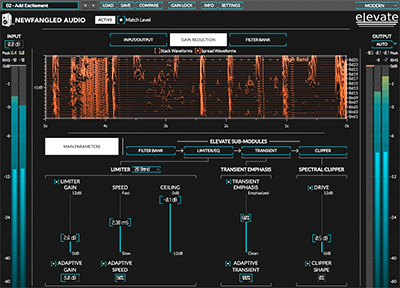 Following the recent release of the EQuivocate EQ plug-in, Newfangled Audio and Eventide have collaborated again on Elevate – now claiming to have the most advanced mastering plug-in ever created.
The developers believe that 'this unique multi-band limiter, human-ear EQ and powerful audio maximiser will increase the loudness of your mix while maintaining or improving its dynamic perception'.
The process uses intelligent, adaptive technology that responds in real time to music, aiming to create both the loudest and best sounding master from the programme input. The release includes presets made by APS Mastering, Matt Lange, Jeremy Lubsey, Eric Beam, ROCAsound, Chris Tabron and John McCaig.
Key Features.
· Automatically adapts attack, release and look-ahead parameters for each filter band to reduce artifacts and perceived distortion.
· Preserves or emphasises fast transients.
· Manipulates transients across critical bands to preserve attack of kick drums, snares and cymbals, without affecting the entire mix.
· Linear phase auditory filters (based on the Mel Scale) manipulate audio in a way natural to the inner ear.
· Solo individual band (or number of bands) to work on frequencies, transients gain.
· Spectral Clipper overdrives final output without affecting the tonal balance.
· Six types of metering cover every aspect of output audio.